If the LG L-series II Smartphones have overwhelmed you, there is more to follow from the world's leading electronics and mobile manufacturing company, LG. After the success of Optimus L3 II and L7 II, LG has now announced the launch of its new L-series II Smartphone. Optimus L5 II is the latest Smartphone in the L-series II category from LG.
LG Optimus L5 II will be initially released in Brazil followed by a global roll-out which would include different regions of the world such as Europe, Central America, South America, Asia, Africa, Russia and Middle East countries, as well. Talking about it pricing, LG Optimus L5 II is expected to come at a price tag of around $180.
LG Optimus L5 II comes as a dual-SIM Touchscreen Smartphone available in a screen size of 4-inch. Optimus L5 II is a thoroughly L-Style Smartphone from LG and comes with updated software and has many great features to its credit.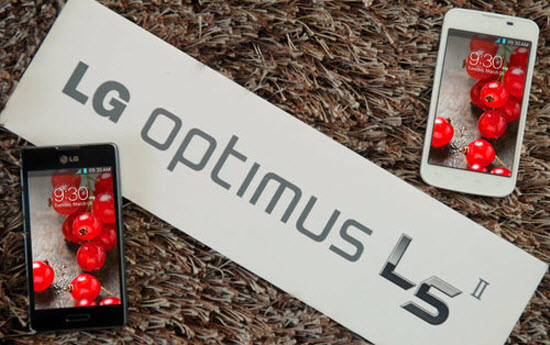 It's 4-inch screen offers a pixel density of 233ppi and sports a HVGA display. LG Optimus L5 II screen display gives a resolution output of 480 x 800 pixels. The Smartphone is largely made up of plastic body, but the metallic like rim around the edge of the phone gives it a highly premium look. It's UI is thoroughly interactive and facilitates easy finger manipulation.
Though it may sound slightly disappointing to you, but LG Optimus L5 II has the same processor, internal storage, and RAM as the LG Optimus L3 II. It has a 1GHz single-core processor, RAM of 512MB, and sports internal storage memory of 4GB. Talking about its operating system, LG Optimus L5 II has the 4.1.2 Jelly Bean Android OS.
LG Optimus L5 II has a powerful rear camera, but no front facing camera. It sports a rear camera of 5MP which has LED flash support. Moreover, the Smartphone has a 'Cheese Shutter' function, which enables you to take a picture by using voice command. It also includes a Quick Button which can be customized to launch an application of your choice. Together with these great features, LG Optimus L5 II also has a powerful battery of 1700mAh. The phone has many connectivity options, as well.
On the whole, LG Optimus L5 II is a stylish, affordable and feature-rich Smartphone. So if, you are looking for an entry level and budget Smartphone, then LG Optimus L5 II can be a good choice for you.
LG Optimus L5 II Specifications
Screen Size: 4-inch
HVGA Display
Dual-SIM Smartphone
Resolution: 480 x 800 pixels
Processor: single-core 1GHz Processor
OS: 4.1.2 Jelly Bean Android
RAM: 512MB
Internal Storage: 4GB
Rear Camera: 5MP with LED Flash
Battery: 1700mAh