The most awaited Windows Vista Service Pack 2 (SP2) is now officially available. Microsoft has come out with Windows Vista Service Pack 2 along with Windows Server 2008 SP2.
Windows Vista Service Pack 2 is available for direct download as a standalone installer at Microsoft download center. It is also available for public download as an ISO image file which can be burnt on CD or DVD for multiple uses.
The Windows Vista SP2 includes all the updates that have been released since SP1.
For installing SP2, you should have first installed Windows Vista Service Pack 1.
The easiest way to having SP2 is to turn on automatic updating in Windows Update in the Control Panel. You just have to wait for Windows Vista to notify that SP2 is ready to install. It simply requires few clicks to start the installation process. The rest of the process is totally automatic.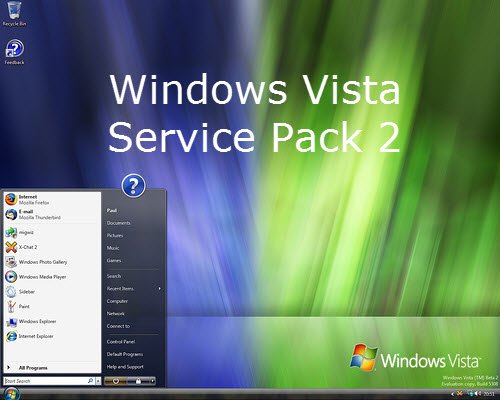 To know if SP2 is already installed
Click on the Start button.
Right-click Computer.
Then click on Properties.
If Service Pack 2 is listed in the Windows edition section, then it is already installed on your computer.
Installing Windows Vista SP2 using Windows Update
When your computer is set to install updates automatically, you will be prompted for Windows Update for installing SP2. You then need to follow the instructions on the screen. However, if you are not prompted for installing SP2, then you can follow these steps:
Make sure that you are connected to the Internet.
Click the Start Button.
Click All Programs.
Then Click on Windows Update.
On the left pane, click "Check for Updates."
Click "View available updates."
From the list of updates, select "Service Pack for Microsoft Windows (KB948465)."
Then click on Install.
You have to type the password or provide confirmation.
You need to follow the instructions provided on your screen.
The computer can restart several times during the installation.
Once the installation is done, log on to your computer. You might get a notification showing whether the update was successful.
In case you have disabled your antivirus software, enable it again.
Presently, Vista SP2 is applicable only to those computers that have Windows Vista installed in the following languages such as English, French, German, Spanish or Japanese.
Windows Vista Service Pack 2 Direct Download
To make downloading of Windows Vista Service Pack 2 simple for you, we have listed the direct download link for you.
We hope that this information proves helpful for you.
Direct Download Link for Windows Vista Service Pack 2 – 32 bit
Direct Download Link for Windows Vista Service Pack 2 – 64 bit