Nowadays, Internet has become a powerful space for downloading and viewing popular videos or audio files. For this, you need to have web browser based software through which you can view multimedia files, run internet applications or stream video and audio files.
Well, you can use the powerful software called Adobe Flash Player. Today Adobe Flash Player has gained a huge user base which is spread throughout the world. It is widely popular and has registered a penetration of over 90% in the internet-connected PCs.
Adobe Flash Player provides a common format for showing animations, multimedia, games, computer graphics, which are embedded, in the web pages. Moreover, it supports all forms of graphics such as vector graphics, 3D graphics, raster graphics, and as well as video and audio streaming. Flash Player comes integrated with the Google Chrome web browser and is also available as a free plugin for web browsers like Internet Explorer (IE), Safari, Mozilla Firefox, and Opera.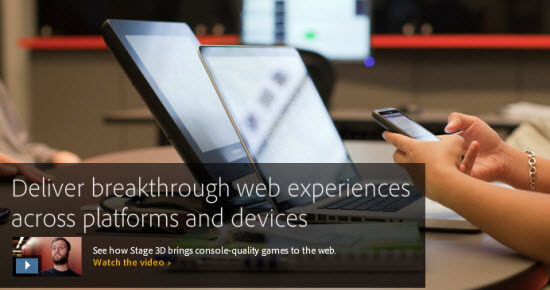 Adobe Flash Player supports various graphics and multimedia file formats such as FLV, JPEG, MP3, R TMP, PNG, and GIF. It executes SWF files and supports ActionScript which is an embedded scripting language. It also supports other data formats such as XML, JSON, and AMF.
The recent versions of Flash Player are hardware acceleration optimized. The result is that you get to have the fast and smooth rendering of 3D graphics and video playback on computer desktops as well as different mobile devices, as well.
With every update of Adobe Flash Player, you get to see various improvements along with the addition of many new features, as well. Some of its latest features include support for 64 bit operating systems, 3D accelerated graphics, support for TLS secure sockets, HTTP Dynamic Streaming and much more.
All in all, using Adobe Flash Player you get to have an uncompromised viewing experience of videos, content, and applications on various web browsers and across various operating systems.
Though the latest versions of Abode Flash Player can be downloaded through online installation, offline installation becomes pretty useful and easy when you have multiple devices.
You can download the Abode Flash Player offline installer from the link given below:
Download Adobe Flash Player Offline Installer for Windows (Flash Player 22.0.0.192):
Internet Explorer – Download EXE Installer, Download MSI Installer
Other browsers – Download EXE Installer, Download MSI Installer
Download Adobe Flash Player Offline Installer for Mac OS X:
All supported browsers – Download DMG Installer
Download Adobe Flash Player Offline Installer for Linux (Flash Player 11.2.202.626):
Linux (64-bit) All supported browsers – Download RPM Installer, Download GZIP Installer
Linux (32-bit) All supported browsers – Download RPM Installer, Download GZIP Installer
Solaris All supported browsers – Download GZIP Installer
Solaris (X86) – Download GZIP Installer