Norton Mobile Utilities Lite is a free Android app. It boosts up the overall performance of your Android devices. It acts as a powerful App Manager by which you can uninstall apps, stop the execution of running apps, take back ups of your apps, or can even move the apps onto your SD Card and can accomplish lots of other things, as well.
Norton Mobile Utilities Lite also functions as a Battery Saver and helps to increase your battery life. It can be used as a Task Killer and thus increases the performance of your Android mobile or tablet. Norton Mobile Utilities Lite is supported on Android 2.1 and higher versions. The user interface is really impressive with good real-time graphics.
Besides the above mentioned features, it also can track mobile data usage and SMS counter and shows you a warning message if you exceed the set limit. Plus with Norton Mobile Utilities Lite you can get detailed information on the various parameters of individual apps like it's CPU time, memory usage, user time, battery usage, system time, and other permissions, as well.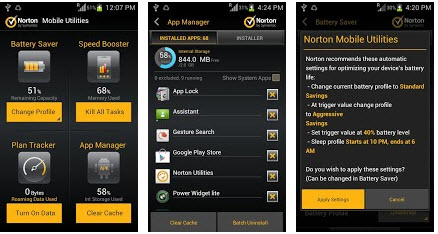 Moreover, Norton Mobile Utilities Lite helps you to find and manage installer files on your SD card and also helps you to free lots of space which was earlier consumed by varied apps on your mobile or tablet. You can clear your cache, move apps to your SD card, and remove unused apps.
The current version of the app also notifies you when more than 85% of your internal storage has been used and refreshes the data on the widget by clicking the widget and also fixes bugs.
Although much of the functionality can already be found in your Android Settings, but still Norton Mobile Utilities Lite can be a useful toolkit for fine-tuning your Android devices.