Samsung has taken its innovation further to new heights in Smartphone manufacturing. With Galaxy S3 still reining supreme in the Android phone market, in the world, it has come out and revealed its latest offering in the form of Samsung Galaxy S4. Revealed at a grand function in New York City at the Radio City Music Hall, Samsung Galaxy S4 is a tremendously innovative Smartphone that is poised to change the way you interact with your phone.
Samsung Galaxy S4 carries a number of new, thoroughly unconventional features and upgrades over its predecessor Galaxy S3. It supports splendid and innovative features like gesture controls so that you can control it with just waving and tilting motion. With just a wave of a hand, you can flip between photos and songs. It even can start and stop videos. Samsung Galaxy S4 definitely redefines the way in which you interact with your Smartphone. This latest flagship Smartphone from Samsung has every capability to take on the competition from Apple's iPhone.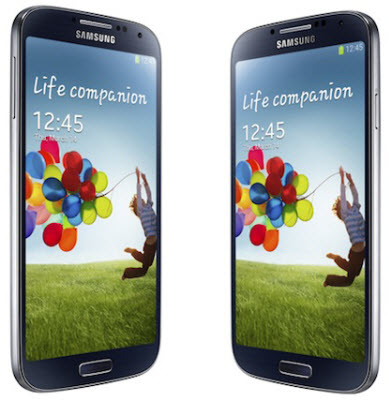 Samsung Galaxy S4 sports a bigger screen size than Galaxy S3. It comes with a big 5-inch screen and supports full HD display. The screen provides AMOLED display and has a pixel density of 441ppi with a superb resolution of 1080 x 1920 pixels. The phone has improved on the hardware front too. Internally, Galaxy S4 carries 1.9GHz quad-core processor. It has a RAM of 2GB and provides internal storage options of 16GB, 32GB or 64GB. As far as its operating system is concerned, Samsung Galaxy S4 runs on the 4.2.2 Jelly Bean Android OS.
Samsung has improved the rear camera in Galaxy S4 as compared to Galaxy S3.
Samsung Galaxy S4 has 13 MP rear camera as well as front camera of 2MP. It provides various connectivity options such as Wi-Fi, NFC, Bluetooth, GPS, etc. Apart from these advanced features, Galaxy S4 sports a powerful battery of 2600 mAh. It would be available in two colors such as black mist and white frost.
Samsung Galaxy S4 has the capability to sense someone's attention and perform action accordingly. For instance, if the Smartphone senses that you are looking at the screen, you just need to tilt the phone forward or backward so as to scroll a web page, either up or down. Likewise, it can pause a video if the user happens to focus his attention away from the screen. Galaxy S4 has many other innovative features that would be loved and enjoyed by the users.
On the whole, Samsung Galaxy S4 is an innovative, advanced, and feature-rich Smartphone. Samsung hopes to further increase its Smartphone market share in the world with the latest flagship phone, Samsung Galaxy S4.
Samsung Galaxy S4 Features and Specifications
Screen Size: 5-inch
Full HD Display
Resolution of 1080 x 1920 pixels
Processor: 1.9 GHz quad-core or 1.6 GHz octa-core
RAM: 2GB
Internal Storage: 16GB, 32GB, or 64GB
OS: 4.2.2 Jelly Bean Android
Rear Camera: 13MP
Front Camera: 2MP
Weight: 130grams
Battery: 2600mAh
Connectivity Options: Bluetooth 4.0, Wi-Fi 802.11 a/b/g/n/ac, NFC, GPS/ GLONASS, MHL 2.0, IR LED