When it comes to computer security, AVAST Software name comes in the fore front as one of the world's most trusted and highly rated computer protection and security software provider.
AVAST has always been a leader in making advance, feature-rich and technically superior antivirus and internet security related software products. It's computer security software are equipped to deliver the consumers with proactive detection, effective and fast removal of viruses and other kinds of online threats together with great user comfort.
Taking its innovation to a new level, AVAST has recently released a new version in its computer security software. AVAST is here with its new Version 8. The new AVAST 8 comes with better technology and includes a number of improvements over its previous version to provide users with fast and effective detection and removal of any kind of online threats such as malware, viruses, spyware, and also from other types of dangerous intruders.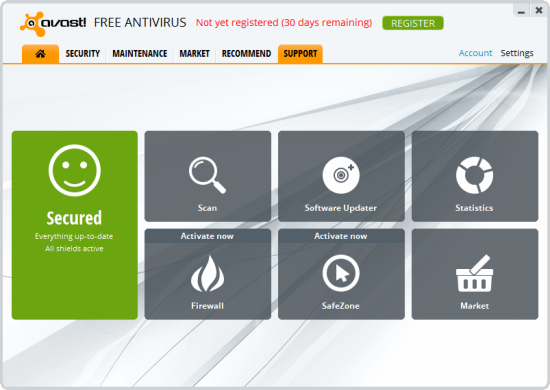 It's free version such as AVAST Free Antivirus 8 can be downloaded from the developer website. It is also available through automatic update. AVAST provides custom installation feature so that you can choose the components which you want to have on your computer system.
Some of the major components that you get to see in the new AVAST 8 versions include Real-Time Shields such as File shield, Web shield, Mail shield, Script shield, Network shield, Behavior shield, etc. The other group of components includes Software updater, Browser Clean-up, Browser protection, Avast! Remote assistance, etc. It also includes Languages component, as well. The new AVAST 8 products come with a completely redesigned graphical user interface which is easy to use and has been optimized to work in the Windows 8 environment.
Some of the new features in the new AVAST 8 versions include components such as the Software Updater, Browser Cleanup, as well as many other components. It also provides new detection engine together with the AutoSandbox™ feature which helps in the analysis and detection of suspicious files. It has got the newly built Evo-Gen System which helps to protect from varied sets of malware.
The new AVAST 8 versions includes free and as well as paid products such as Avast Free Antivirus, Avast Pro Antivirus, Avast Internet Security, and Avast Premier.
On the whole, you can look forward to getting complete computer security and protection from the new AVAST 8 versions.