Temple Run, the running game from Imangi Studios is already a big hit with gamers all around the world. And now, you get to have the sequel for this thrilling and exciting running game in the form of Temple Run: Oz. Imangi Studios has partnered with Disney to release the stunning game of Temple Run: Oz.
The game has been based on the forthcoming adventure film from Disney called Oz the Great and Powerful and features awesome environments including the famous Yellow Brick Road that you would get to see in the movie itself.
Temple Run: Oz is more exciting than its previous version and includes many new features that you would love to explore and enjoy while you play on with the game. It comes with automatically changing environments, which are thoroughly exciting.
Temple Run: Oz demands your focus and reflexes so that you can turn, slide and jump through various dangers and falling obstacles. The game lets you seamlessly switch between locations and can even explore the locations by using varied sign posts. It also provides Hot Air Balloon as a bonus feature. So as, you play Temple Run: Oz you would experience the thrill and excitement of shrieking flying baboons chasing you. It is an out and out thrilling and adventurous running game which you would love to play.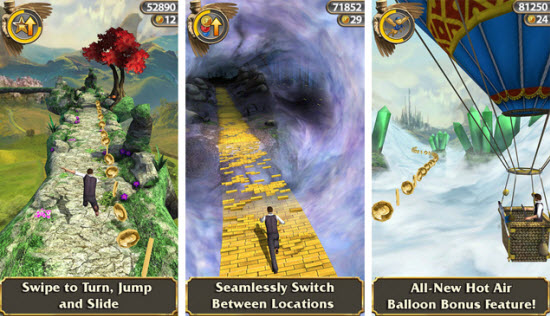 At present, Temple Run: Oz is available for iOS devices and runs best on iOS 6. The game app can be played on iPhone as well as on iPad.
Some of the salient and notable features of Temple Run: Oz includes:
Provides absolutely stunning environments
Features Hot Air Balloon
Comes with a different location options
Automatic Environment Changes as you keep on running
Gives you the facility to participate in Weekly Challenges
On the whole, Temple Run: Oz is an awesome running game that you would enjoy playing again and again.