Google Chrome Laptops are already making news across the world. They are giving a tough competition to the PCs powered by software giants like Microsoft and Apple.
In an attempt to expand it's portfolio of Chrome Laptops and provide users with a much enhanced experience of a powerful Chrome Laptop, Google has launched The Chromebook Pixel – the new Chrome powered laptop. Chromebook Pixel is absolutely a stunning laptop from Google and will be available at a price starting from $1299.
Chromebook Pixel has been studded with awesome features, which makes it, a must-have laptop. It comes in a 12.85-inch (nearly 13 inch) wide screen which in-fact functions as a touchscreen and responds instantly to the swipe or touch of your finger. So in this way, it is equivalent to Microsoft Windows 8 touch and swipe features. Moreover, Chromebook Pixel provides a high resolution display of 239 pixels per inch which is slightly better than what you get in high-resolution Retina display screens.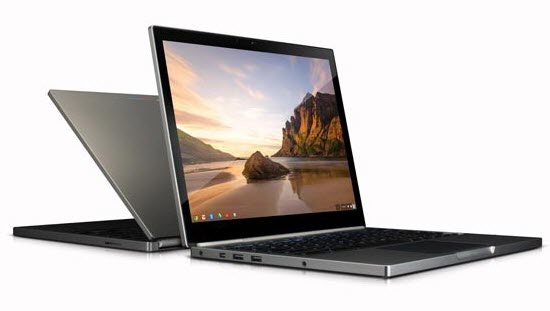 Basically, Google has designed and positioned Chromebook Pixel for the so called "power users", that is for those PC or laptop buyers who are willing to pay the extra dollars for getting advanced features and components. And you would really don't mind it either as you are bound to get various superb or technically advanced features in Chromebook Pixel.
The Google Chromebook Pixel comes with a powerful 1.8GHz Intel Core i5 processor and supports Intel HD Graphics, too. Further, it comes with a RAM of 4GB (DDR3) and also provides free online cloud storage with Google Drive of one terabyte for full three years. It includes backlit chrome keyboard, a HD camera of 720pixels and multiple other features, as well.
The Google Chromebook Pixel will be available in two models. One is the Wi-Fi model which provides 32GB of flash storage and comes at a price tag of $1299. The other model of Chromebook Pixel comes at the price of $1499 and can connect through Wi-Fi as well as 4G LTE cellular network also.
On the whole, Chromebook Pixel is really a powerful and technically advanced laptop. Seeing its rich features one would not mind paying a little higher for possessing such an awesome laptop as the Google Chromebook Pixel.
Let's review the major features and specifications of Chromebook Pixel:
12.85-inch Screen Size
Resolution 2560 x 1700 pixels (with 239 pixels per inch)
multi-touch screen with Gorilla Glass
Dual Core 1.8GHz i5 processor
RAM 4GB
Solid State Drive of 32GB; 64GB for LTE model
online Cloud Storage with Google Drive of 1 Terabyte for 3 year
MMC / SD Card Reader
59 Wh battery
Wi-Fi, Bluetooth support and LTE modem (in LTE model only)
Has HD Camera of 720p