The world tablet market is fast growing by leaps and bounds. The demand for powerful and feature-rich tablets is on the rise all across the globe. All the leading mobile manufacturing companies are engaged in innovating and developing stylish, advanced and feature-rich Tablets.
And now, the world's leading technological giant, Acer has come out with yet another fantastic tablet named Acer Iconia W3. This new tablet from Acer, Iconia W3 is the world's first 8.1-inch Windows 8 tablet. Acer Iconia W3 got launched at the Computex 2013 and will be available at a price tag of $379.
Although the market is flooded with big tablets using Windows 8 operating system, Acer Iconia W3 is the first Windows 8 tablet that can actually fit in your hand. Acer Iconia W3 is a powerful and advanced 8.1-inch Windows 8 tablet. The tablet is 11.35mm thick and weighs 540 grams only. It has been powered by 1.8GHz dual core Atom Z2760 processor. Iconia W3 gives a resolution of 1280 x 800 pixels and has a LED-backlit display.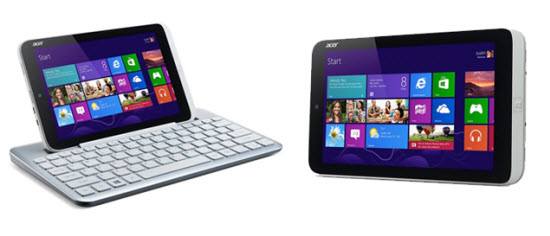 The Acer Iconia W3 has a rear as well as the front-facing camera. It has a 2MP rear camera and a 2MP front facing camera. It comes with a powerful battery which gives around eight hours of battery life. The tablet is available in internal storage options of 32GB and 64GB and also supports a micro-SD Card Slot.
Acer Iconia W3 provides connectivity options such as Wi-Fi, Micro-USB, Bluetooth 4.0 and Micro-HDMI. It sports a pre-installed copy of Student 2013 and Microsoft Office Home. The tablet also provides the option of a keyword which costs around $90. The keyboard look and functionalities are pretty much like that of Acer's Ultrabook.
On the whole, Acer Iconia W3 is a powerful, advanced, feature-rich, big and yet handy tablet which is easy to use and handle.
Let's see the main specifications of Acer Iconia W3:
8.1-inch Screen with backlit LED display
Weight: 540 grams
Resolution: 1280X800 pixels
Processor: 1.8GHz Dual-Core Intel Atom Z2760
Windows 8 OS
1.8 GHz dual-core Intel Atom Z2760 processor
Internal Storage: 32GB, 64GB (expandable by up to 32GB)
Rear Camera: 2-MP
Front Camera: 2-MP
Micro-USB, Micro-HDMI, 3.5 mm headphone jack
Wi-Fi 802.11b/g/n