Apple's fourth-generation iPad tablet is already a hit throughout the world with Apple selling over 120 million iPads across the globe. And now, Apple has announced the upgraded version of iPad tablet in the form of 128GB fourth-generation iPad. Yes, Apple has launched 128GB iPad Tablet. The new iPad model has twice the internal storage capacity than its predecessor increasing its internal storage from 64GB to 128GB.
The rest of the features and specifications of this new 128GB iPad remains similar to the earlier version of 64GB iPad. The new Apple 128GB iPad 4 will be available from 5Th February 2013 onwards. 128GB iPad Wi-Fi model has been priced at $799 while its Wi-Fi + Cellular model will cost $929.
Now with this new fourth generation 128GB Retina Display enabled iPad you get the opportunity to store even more of your valuable content such as documents, presentations, projects, books, photos, music, movies, and apps. You will certainly find more reasons to learn work and play on the new 128GB iPad.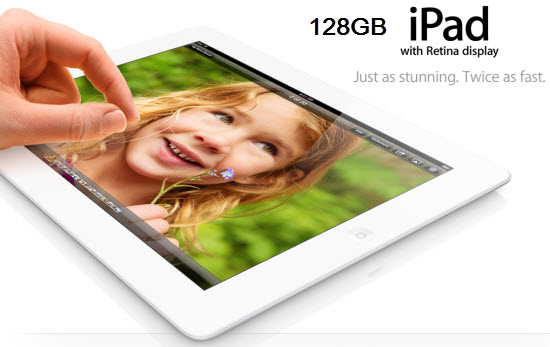 This will help the professionals, businesses, enterprises, artists, designers, educators to utilize the new 128GB iPad in a more profitable way. With internal storage option increased to 128GB you get to store more of your project blueprints, 3D CAD files, training videos, film edits, X-Rays and other kinds of valuable information, as well. The new 128GB iPad will set new standards in tablet usage across the whole world.
The new 128GB iPad 4 has retained the powerful and advanced features of its predecessor (the 64GB fourth-generation iPad). It comes with a large 9.7 inch Retina display multi-touch screen to give you superb clarity, vibrant colors, rich and detailed photos and videos. The 128GB iPad carries the Apple built powerful and new A6X chip and provides super fast performance.
It uses iOS 6.1 operating system and supports ultrafast wireless connectivity. It has the FaceTime® HD camera and supports many LTE networks. Besides this, the 128GB iPad includes more than 800,000 apps over a large range of categories such as games, books, travel, business, sports, health, news, etc.
The new 128GB iPad will come in two colors such as black and white and will be available from 5th February 2013. On-the whole, the new fourth generation 128GB iPad 4 tablet is poised for a huge welcome from all over the world.