The Norwegian based developer Opera is already a big name in the world of web browser. With millions of users worldwide, Opera has become the preferred choice for web browser. Opera is giving a tough competition to the likes of Internet Explorer, Google Chrome, Mozilla Firefox and others too. And now Opera has released the trial version of its latest web browser in the form of Opera Next 15. Opera Next presents a sneak peek into the Opera's latest web browser.
Opera Next has been based on the Chromium platform rather than on the Presto based web browser platform and can be used on Windows and Mac Operating System. It brings a number of changes and includes various new features which make Opera Next 15 both attractive as well as interactive. Most of the additions have been synchronized with the Android version of the browser.
We hereunder illustrate some of the major features of Opera Next.
The home page of Opera Next boards three tabs such as Speed Dial, Stash, and Discover.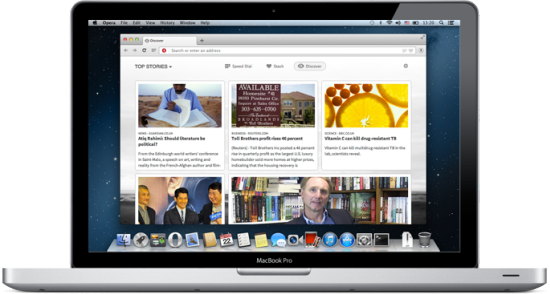 The Speed Dial has the same interface as found in the previous versions of the Opera web browser. It features a search box at the top, and now you can categorize the web pages in folders, as well. This feature makes you more organized and is already present in the Opera's Android based web browser.
The Stash tab is the new feature that you would be seeing in Opera Next. It lets you save links so that you can use them in the future. Saving important and favourite links lets you read the content whenever you like.
The Discover Tab is perhaps the most notable addition you get to see in Opera Next. It helps you to discover content. It was seen in Opera Android Browser. It presents categories such as Entertainment, Business, Top News, and Technology. In each of the categories, the stories are presented in neat tile formatted interface.
Apart from these features, Opera Next features 'Smartbox' which shows you results from multiple search engines. It has the Off-road mode which can be used when you face slow connectivity and helps to load web pages fast.
With this release, Opera has moved its internal email client M2, to a separate product named as Opera Mail.
On the whole, the features and looks of Opera Next will certainly inspire you to use it as your preferred web browser.