The world's leading technology company, Sony is in news yet again. Sony already has a great portfolio in Smartphones and Tablets and this time it has taken a tremendous leap forward to launch the world's lightest and thinnest Tablet in the 10-inch category. Yes, the much anticipated Sony Xperia Z Tablet has been finally launched in Japan. It has been stuffed with superior and advanced features which easily make Sony Xperia Z one of the finest Tablets in the world. As of now, Sony Xperia Z Tablet will be available for the Japanese market only. Sony has still not come out with details regarding its pricing and the availability of Sony Xperia Z Tablet in other countries.
Xperia Z will now lead the show for Sony in the Tablet market which was earlier taken care by Sony's Xperia S Tablet. Looking at the specifications and features of Sony Xperia Z Tablet, it easily stands out to be a clear winner. Sony Xperia Z Tablet is a 6.9mm thick and just 495g in weight. Sony Xperia Z Tablet comes with a 10.1-inch full HD display screen which gives a resolution of 1920 x 1200 pixels. It has been studded with Sony's own Mobile Bravia Engine 2 technology which further improves the screen performance.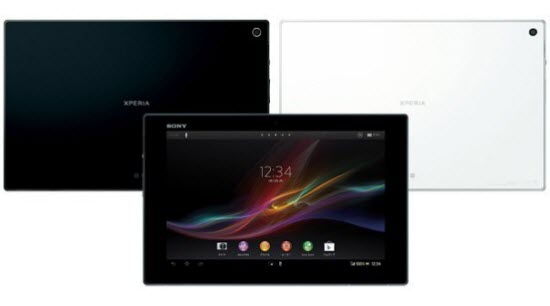 Furthermore, Sony Xperia Z Tablet has got a powerful processor. It carries an advanced and powerful 1.5 GHz Qualcomm quad-core processor. It runs on the Android 4.1 Jelly Bean operating system to provide you with extraordinary multimedia and gaming experience. To make things even more good, it comes with 2GB of RAM and an internal storage capacity of 32GB.
In Sony Xperia Z Tablet you would get to experience the power of NFC technology and Sony's virtual surround sound "S-Force" technology. It even provides for LTE connectivity and carries a microSD slot. Talking about its camera, Sony Xperia Z Tablet has got 8.1 MP Exmor R rear camera. It has a powerful 6000 mAh battery. To top it all, Sony Xperia Z Tablet is a dustproof and waterproof tablet.
So, looking at its features and technical specifications, one can easily rate Sony Xperia Z Tablet as one of the finest tablets in the world.
Here is a brief overview of the specifications of Sony Xperia Z Tablet:
10.1 inch Screen
1920 x 1200 pixels Resolution
Full HD Display
1.5 GHz quad-core processor
Android 4.1 Jelly Bean OS
RAM of 2GB
32GB of internal storage
6000 mAh battery
NFC and LTE supported
Rear Camera 8 MP
Weight 495 grams
Thickness 6.9mm