Microsoft the largest software manufacturer of the world is also well known for its world class hardware products. Besides Windows operating system that runs over 90% of world's personal computers, Microsoft is also known for Xbox 360 consoles and other sorts of hardware devices. And now Microsoft has eyed to further strengthen its base in the hardware arena with the release of its newest and powerful tablet, the Microsoft Surface Pro.
Microsoft designed the new tablet to promote its touch-friendly latest operating system, Windows 8. Microsoft Surface Pro can be aptly regarded as a hybrid of tablet and laptop and comes at a price of $899 without a keyboard and for $1000 with keyboard.
Microsoft Surface Pro comes as an upgraded version of Microsoft Surface RT tablet which was released along with the launch of Windows 8 and solves much of the issues figured in its predecessor, Microsoft Surface RT. Some of the major problem areas of Microsoft Surface RT included that it wasn't able to execute traditional Windows programs and the number of great apps was also quite low.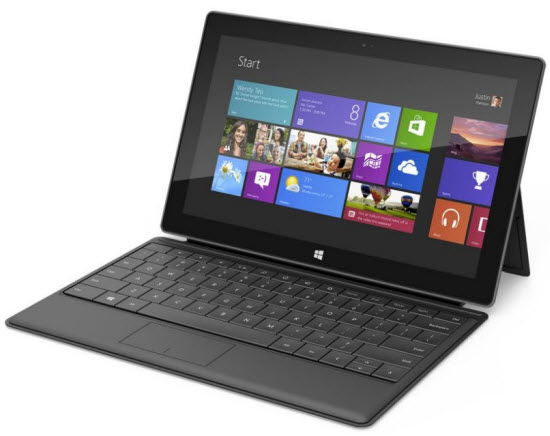 A look at the Microsoft Surface Pro features and specifications will certainly help to bring out its outstanding capabilities. Microsoft Surface Pro has been powered with the Intel Core i5 1.7GHz processor together with Intel HD4000 Graphics to give you super fast and enhanced performance. Microsoft Surface Pro has 4GB of RAM and provides options of 64GB or 128GB of internal storage capacity. It brings forth a gorgeous screen display of 10.6-inch which gives a superb resolution of 1920 x 1080 pixels.
Microsoft Surface Pro has been made with VaporMg metal material which makes it to withstand any bumps and falls. It has an all-black design with clean and square edges similar to that of Microsoft Surface RT tablet and carries a mini-HDMI port and a full USB port, as well. Moreover, Microsoft Surface Pro runs on Windows 8 operating system and provides you with enhanced multi-tasking and user experience.
It provides Wi-Fi and Bluetooth connectivity options and comes with a light sensor, gyroscope, compass, and accelerometer, as well. Microsoft Surface Pro has both rear and front facing camera which can record 720p videos. It carries pressure-sensitive, Wacom-made stylus which is quite handy for the device. Microsoft Surface Pro also gives the option of an attachable keyboard and provides a black plastic pen for sketching and writing purposes. It facilitates the download of almost any apps in the Windows Store and also programs through the web.
All-in-all, Microsoft Surface Pro is a smart and powerful tablet that can also work as a laptop.
Brief overview of Microsoft Surface Pro Features and Specifications:
Screen Size: 10.6-inch
Screen Resolution: 1920 x 1080 pixels
Operating System: Windows 8
Processor: 1.7 GHz Intel Core i5 processor
RAM: 4GB
Internal Storage: 64GB or 128GB
Connectivity: Wi-Fi, Bluetooth
Battery: 42.0 Wh
Weight: 2.0 lbs