Microsoft Security Essentials is now favorite security software for many people. Microsoft is also regularly improving this free security suite and a new Beat is released with some more improvements.
Microsoft Security Essentials is free fully functional antimalware software which protects your PC from viruses, spyware, and other malicious software. Microsoft Security Essentials is regularly updated with latest virus and spyware definition updates so you don't need to be worry about latest viruses and threats. Other than that you get reliability of Microsoft. Your Microsoft Windows should be genuine to run Security Essential on your PC.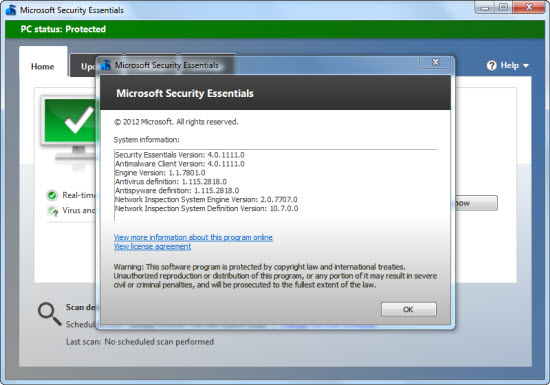 Microsoft has just released a new Beta version of Microsoft Security Essentials which is now version 4. The new Beta comes with some new features and you can download this beta version. First look at some new features in this Beta release.
Enhanced protection through automatic malware remediation: The Beta program will clean highly impacting malware infections automatically, with no required user interaction.
Enhanced performance: The Beta includes many performance improvements to make sure your PC performance isn't compromised.
Simplified UI – Simplified UI makes Microsoft Security Essentials Beta easier to use.
New and improved protection engine: The updated engine offers enhanced detection with cleanup capabilities and better performance.
At a first look you will not find many changes in User Interface but new fonts are used for easy viewing. In this release malware notice will pop up if your PC is infected by "highly impacting" malware. The latest beta release is much faster than current stable release.
Anyone can download latest Beta of Microsoft Security Essentials but you must have Windows Live ID to download latest release. There are two ways you can download this beta release first go to Microsoft Security Essentials website and you will find Download Beta release box click on that and sign in with your Windows Live Id and download this software or use this Direct Download Page Link to download latest Beta release.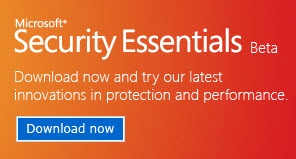 Right now Microsoft Security Essentials Public Beta is available in English language and 64Bit version (11.04 MB) and 32Bit version (8.87 MB) are available for download.