In over daily computer work we use copy paste option several time. We use copy paste to takes backup or move file from one location to other. To copy any file we normally use Cntrl + C and to paste we use Cntrl +V. It is easiest way to move files to another location.
Many times we have to move heavy files from one place to another and using normal copy/paste method but it takes lot of time. Have you tried copy and pasting file sized 1GB or more how much time it takes. Depending on your computer configuration it can take 15 min to hours to copy data on same hard drive.
If you don't want to wait long to move data then there is a great solution TeraCopy which is free software which help you to copy data much faster than normal Windows copy/paste option. TeraCopy can save your lot of time which you waste on copying data.

There are many software available in market which can do similar task but TeraCopy is compact software which copy and move files at maximum speed possible. TeraCopy offers error recovery feature which try unsuccessful transfer again and again and automatically fixes other problems.
After installing TeraCopy you use your copy/paste task normally as you do but TeraCopy speedups this task. The main feature of this software is that it comes with pause and resumes option you can pause your copy paste work and do other work.
Features of TeraCopy
Copy files faster: TeraCopy uses dynamically adjusted buffers to reduce seek times. Asynchronous copy speeds up file transfer between two physical hard drives.
Pause and resume file transfers: With TeraCopy you can Pause copy process any time to free up system resources and continue with a single click.
Error recovery: In case of copy error, TeraCopy will try several times and in the worse case just skip the file, not terminating the entire transfer.
Interactive file list: TeraCopy shows failed file transfers and lets you fix the problem and recopy only problem files.
Shell integration: TeraCopy can completely replace Explorer copy and move functions, allowing you work with files as usual.
Full Unicode support.
Windows 8 x64 support.
Teracopy can completely replace the Explorer copy and move functions, enable us to work with files as usual.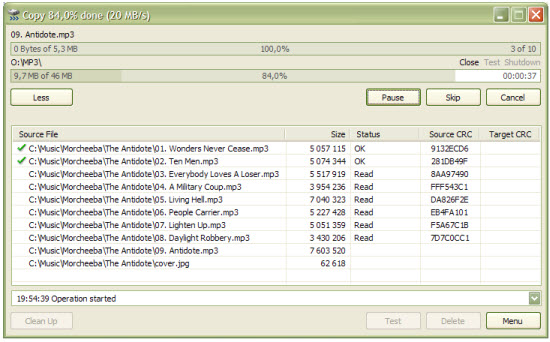 TeraCopy is free software but there is a Pro Version too which comes with some more features like:
Copy/move to favorite folders.
 Save reports as html and csv files.
 Select files with the same extension/same folder.
 Remove selected files from the copy queue.
 More features coming soon!
Overall TeraCopy is great and must have software which speedups data copy work. It is lightweight, fast and easy to use. If you do lot of copy paste your computer than TeraCopy is just for you.