Google has announced the launch of new version of Samsung Chromebook. The most attractive thing in this latest version of Samsung Chromebook is its price; Google has priced it at $249.
The low cost of this new Samsung Chromebook is justified because of its processor; its processor is ARM based processor not Intel.
New Samsung Chromebook has a screen of 11.6 inches (1336*768 pixels) with the thickness of just 200mm (0.8 inches) along with a weight of 1.1kg (2.43 pounds). Chromebook can easily run for more than 6 hours on battery with typical usage.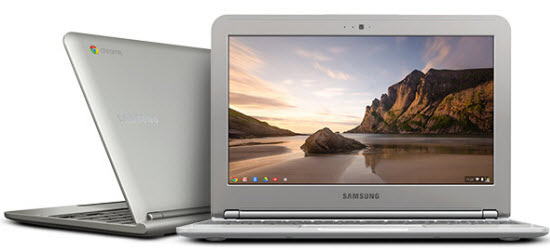 New Samsung Chromebook works on Samsung Exynos 5 Dual low power processor built on fan less dual core cortex A-15 architecture. It has a RAM of 2 GB and 16 GB of flash memory.
Google also provides 100 GB of free storage on Google Drive for two years for all the New Samsung Chromebook users. Users can easily store music, pitchers, files and many other things in this Google Drive and can access it from anywhere.
For connectivity, it has Wi-Fi, Bluetooth, HDMI output for joining it with TV, 3.5mm of Jack (headphones), USB of 2.0 and 3.5 mm port, place to insert Micro SD card to further expand the storage.
Display of this Chromebook can't be said bad, it's acceptable with satisfactory resolution and brightness with an average touch pad and a webcam also.
New Samsung Chromebook has some shortcomings also. Chromebook has some problem when there are many tabs open in a single Window, it does lacks some keys also in its keyboard as right delete key, Caps lock key, page up and page down keys. These are some key missing in New Samsung Chromebook which is making some difficulty in running the Chromebook.
The New Samsung Chromebook is a very good alternative for those who do not want to carry heavy laptops with them. Most importantly is its price that is making this Samsung Chromebook attractive for just $249.