It seems like Asus has a dream association with Google. After the successful launch of Google Nexus 7 tablet, Asus is all set to reveal Asus Qube Google TV (Set-Top) Box. Asus has finally declared that it will soon launch the much awaited ASUS Qube Google TV, most probably in the last week of April 2013 or early May 2013.
The device would be initially launched in select countries, starting with US. As of now ASUS has not yet announced it's pricing, but according to reliable sources, ASUS Qube Google TV would come at a price tag of around $150.
Although ASUS Qube Google TV has somewhat strange geometry and comes in the form of a cube shaped device, the set-top box has been empowered with great and stunning features. It comes with a custom cube-like interface and is set to provide a fantastic TV experience to the viewers. ASUS has positioned the device, ASUS Qube Google TV as the first standalone box with Google TV.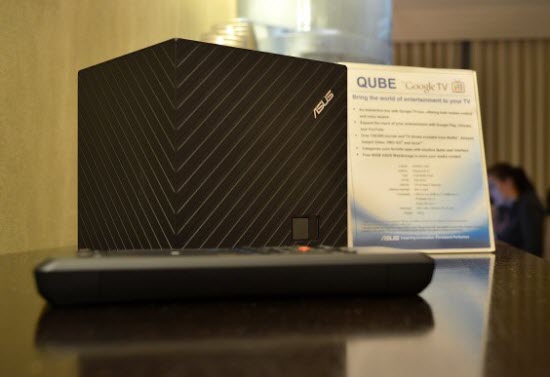 The device can be plugged straight into your TV and provides a fully featured interface which enables you to browse the web (through Chrome), watch live TV, stream content from various sources. You can even play Android games and gives complete access to Google Play Store. In addition to these features, ASUS Qube Google TV comes with a multi-functional and powerful remote which has a gyroscope, a clicky touchpad, as well as keyboard.
Well, ASUS Qube Google TV is actually pretty small in size and in no way looks obtrusive once you set it up. This small Google TV box from Asus features two USB 2.0 ports, HDMI in and out, IR blaster, and an audio out.
The Qube includes a versatile voice-activated search. The search functionality is thoroughly powerful and comes up with exact results, which you have asked or queried. You can search by title, genre, actor and many more parameters.
Initially ASUS Qube Google TV comes with support for Google Play, Amazon Instant, Netflix, and HBO Go. Its UI features nine categories such as TV & Movies, Music, Sports, Gaming, News, Social, Photos, Education and Favorites.
On the whole, ASUS Qube Google TV is a feature-rich Smart TV Device which excels at discovering content so that you can watch it on TV or online.