Whenever you want a relaxation or sooth yourself the first choice that comes into your mind is to listen the soft music and fill the air with cool music all around. Whenever you want something exciting or in a party mood you want everything should be rocking. So music always plays a role in some way or the other. To let everyone feel the heat of music we often connect our devices to the speakers.
Today there are so many speakers which create the buzz around but the main issue with them is that they are not portable. They need to be fixed at a place but with the fast changing needs and demands of the world everything requires to be precise and yet attractive. So in this wireless technology world the Company Bowers and Wilkins has developed a powerful speaker Zeppelin Air with amazing sound quality and compact size to work for your Apple MAC, iPods, iPads and even iPhones.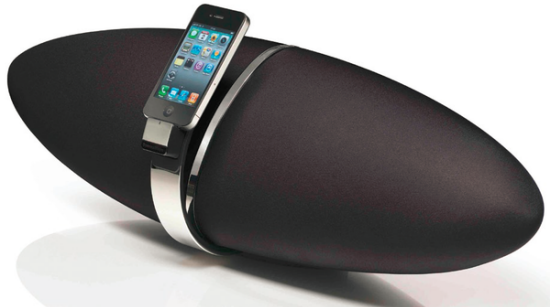 Zeppelin Air is the ultimate AirPlay wireless audio system with great sound, advanced Digital Signal Processing and fully integrated AirPlay technology. Apple's AirPlay technology allows music to be streamed wirelessly from your Mac or PC to Zeppelin Air moreover you can play the sound on your portable devices too.
You just simply select the track you want, and AirPlay lets you play it instantly. And if you move from one room to another, you can simply select a different Zeppelin Air and play it there, too. You can simply dock the iPods and iPhones of differing depth through a spring loaded docking port that flexes to accommodate each model.
Zeppelin Air also offers a USB port to simply connect the speaker to your computer by USB to link your iPod directly to iTunes thus syncing the contacts, apps, bookmarks, calendars and playlists in the easiest way.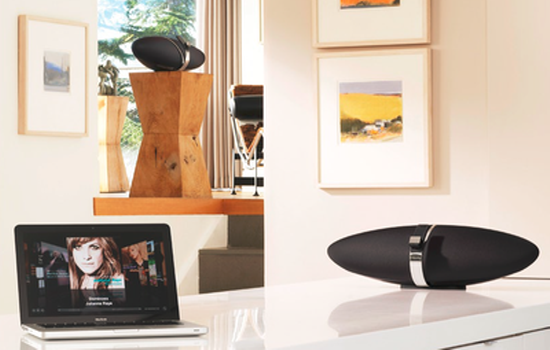 Specifications and Sound Quality of Zeppelin Air Audio System
The 2.1 design of the Zeppelin Air are driven by dedicated audiophile class D amplifiers. The improved 4×25 Watts + 1×50 Watts output powers improved drive units and addition of Flowport technology and advanced Digital Signal Processing makes the experience immeasurably improved with bass performance. The new Zeppelin air also upgrades the DACs with new 24 bit/96KHz capability for improved performance.
Dimensioning 173mm X 640mm X 208mm and weighing 6.2kg the speakers make a complete rest on any platform with its unique style and design. It consumes approx 100watt energy during play time and 0.8W during standby mode.
The new design of Zeppelin air and its mid-range drive units helps the sound dispersion even further to produce more open, natural sound. Its Digital Signal Processing (DSP) using double-precision processing and in-house algorithms optimizes drive unit control.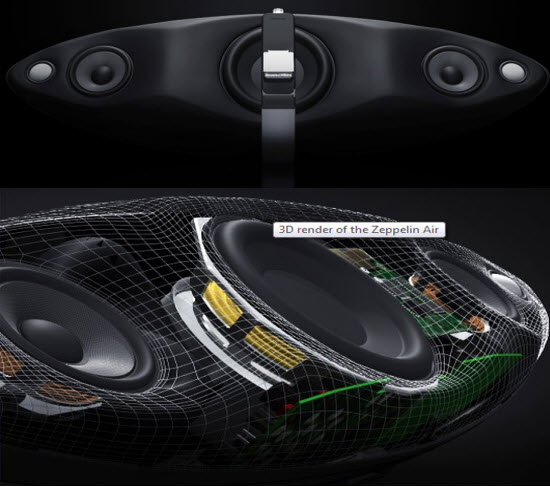 The Bottom Line: Zeppelin Air is one of the best sounding iPod dock ever with new drive units, upgraded amplification and advanced Digital Signal Processing which will let you enjoy the every moment of the music and will enable you to make your room a perfect party place.