Following the rapid development in web browsers, Mozilla released another update Firefox 8.0 with the feature of add-ons to extend the flexibility of the browser and giving more user control over the web and many other features. The Mozilla Firefox 8 allows users to select the add- ons as per their choice and restricting the third party add-ons to automatically enable.
Many times your page browsing speed gets slow or it takes much more time to start the browser, the cause for this trouble can be the presence of various add-ons that get installed automatically. People even not get to know from where these add-ons get enabled in their browsers. But with Firefox 8, those third-party add-ons will be disabled by default. User will have the option of customization of add-ons by enabling/disabling the add-ons. Those the user installed will be enabled by default, but those installed by third parties will be disabled by default. A dialog box will appear once after the new browser is installed that will allow customization.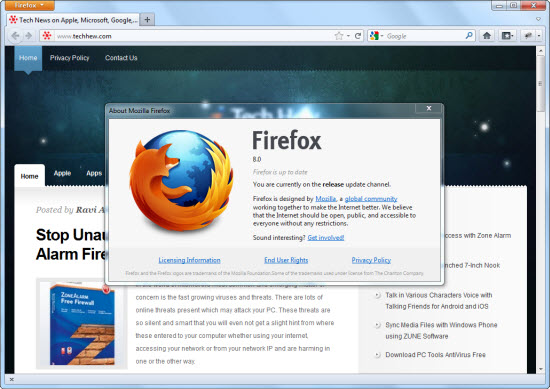 Add-ons being the asset for Firefox previously had all the add-ons appear in the side menu bar which not only slowed the speed but also cluttered the screen. Whether the add-on was useful for the user or not, it was present on the browser. But the Firefox 8 gives you the facility of disabling all those add ons which are not of any use for you. Those which you installed will appear on the screen while those disabled will be not be a part of your browser thus making it light weight and fast.
Besides add-ons customization there are further new changes in the Firefox 8:
New Twitter Search bar: Now search your celebrities and find your friends more easily on Twitter with the new Twitter search box in Firefox which makes it easier to discover new topics, #hashtags and @usernames.
Add context menus to the Web sites and Web apps: Web developers can now easily add context menus to their Web sites and Web apps with the new supportability of HTML 5 by Firefox 8.0.
The new feature in WebGL called cross-domain textures developed to work around a security problem allows websites and Web apps to display hardware-accelerated 3D graphics without third-party software.
Easy Tabs Customization: Firefox 8.0 gets a new option to load tabs on restart only when a person makes those tabs active to make it more animated and good looking. It can be useful to get your main tab working fast.
 For the Android Users, Firefox has new features that put users in control their mobile Web experience by setting a master Password to protect all their saved usernames and passwords. This will help your private info stay private if you ever share or lose your Android device.
The new version definitely includes certain new and exciting feature but is it very feasible or simple for the users to get updated to new version too often. Like Chrome now Firefox is also getting new updates in short intervals with some new features.