Internet presents a big online world to each one of us. Most of us find themselves engaged in doing one or the other activity over the World Wide Web. Today we are using the Internet for downloading, for doing research work, and surfing for information, for online shopping, for games and entertainment, for socializing and many other stuff as well.
There is a wonderful extension, "TimeStats" for Google Chrome users which will help to keep track of the online activity of the users and show statistics about the sites which they visit most.
TimeStats collects the statistics about the time you spend on each of the websites over the Internet and presents them in the form of pie charts. Thus TimeStats in a way helps you to better organize your schedule on the Internet and also support to correct and optimize your schedule so that you are able to spend quality time over the Internet.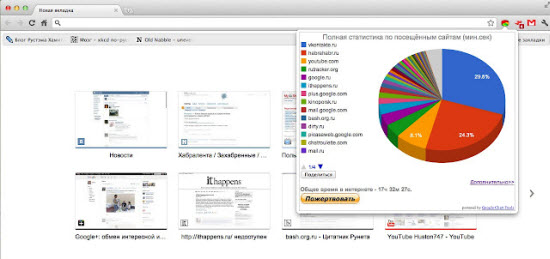 You can have TimeStats in the form of Extension and can access it anytime whenever you require. You just have to roll the mouse over the TimeStats icon to get the total time you have spent on the site for the day. When you click on the icon of TimeStats Beta you get to see the complete statistics in the form of pie charts and in other diagrammatic forms. You can have the percentage wise details of all the sites that you have visited during a particular day or even for a definite period. You can also have the details of the time spent on each site, plus you can also have the percentage statistics of visited domain zones. Statistics can be had for a day or a whole date range. Such is the clarity of presenting the site wise time statistics of TimeStats.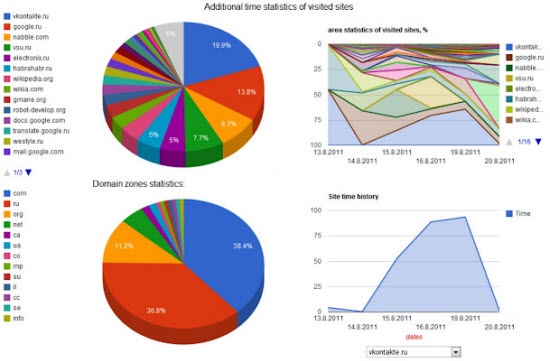 On the whole TimeStats is a wonderfully easy and useful extension for Google Chrome users. Time Management is important both at personal or professional level. Internet usage has increased tremendously during the recent past and as such the needs to stay organized and manage your schedule and time over the net. So TimeStats can be a good choice for Internet users and what's more it is being offered for completely free and also comes without any advertisement.