Playing childish always makes you remember the age of childhood when you didn't have much to think about. But with the growing age you get entangled with other more important stuffs. Realizing the truth and inspired by the new generation of mobile touch devices, OutFit 7 has developed simple, engaging apps of talking where you can interact with the characters of the app. Categorized under Talking Friends there are number of related apps. Some are free while need are paid.
The app is enjoyable for all age groups and is popular among the children. It's just like the Next Generation of Toys for the children. Outfit 7 mainly endeavoring on the fun apps launched its first app as Talking Tom Cat, which became highly popular over the world after that the company has developed many such talking apps where the character of the app repeats what you say. The apps are available for both Android devices and iOS based iPhone and iPad.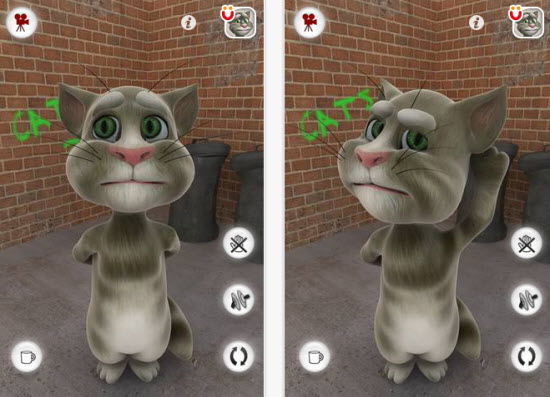 You can Poke or tickle them and watch what they do. Each app has different character with different tone of voices. They each have a different set of features for you to play with to get your imagination going. The paid ones also allow you to record a series of interactions and send video messages to your friends.
The different apps with different characters include Talking Tom Cat and Tom Cat 2 which is a pet cat that responds to your touch and repeats everything you say. You can enjoy hours of fun and laughter with Talking Tom. Talking Santa makes you remember of the Christmas when Santa use to bring gifts. Talking Ben has a dog character which emulates whatever you say and performs actions on your poking. Other characters include Robot, Giraffe and others.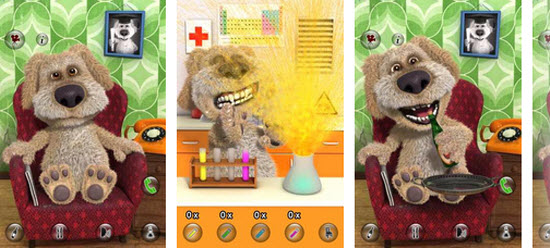 There also option of turning off the more violent actions, make the character listen longer before repeating and Clear the Facebook/YouTube login data.
Overall, these are fun apps which will be enjoyable for children of all ages and even for the other age groups but these apps require a bit of more space of your device memory than other apps. Normally it requires 3-20MBs of memory space.
Click the below link to view and download the apps
Download Talking Friends for Android
Download Talking Friends for iOS (iPhone, iPad, iPod Touch)