Want to keep up with the daily news from your favorite websites but it so time taking to surf the web for each of them. Subscribing their RSS feed helps you to get the latest news at one place means all the news from different websites available to you at your RSS reader.
Feedly – the RSS reader, which is not only limited to your computer but is also available for your Smartphone which means your RSS reader is available to you while you are on the move. This means that You can keep the track of your daily feeds on the move and more importantly Feedly can also sync with Google Reader which means that you may start reading a post on your web browser's Feedly and can continue to read it from where you left off on your mobile device or any other computer just by signing to Feedly with your Google account.
Feedly seamlessly sync with your Google reader which gives you freedom to use any of the them and make changes into it. For example you may starts to follow a site from Google Reader then you will also be following it in Feedly because of the sync function on it.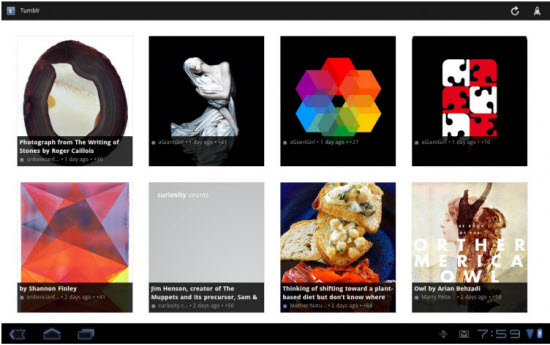 Feedly's has revolutionized the reading experience by providing and designing its user-interface on a minimalistic structure. The minimal viewing given by Feedly's environment makes reading a more pleasant and happy experience. The Minimal magazine style of Feedly organizes all the readable content into magazine-like start page to give the reader a more cleaner, a more colorful, a more visual and a more focused reading over its fancy interface. The text and images of the news feeds are presented in a grid structured style, called Feedly's Alleys which has a more focusing element on the content that the reader is about to read.
Another pillar on which Feedly's designing stands is its great personalization feature. You can customize Feedly according to your own taste and likings. Feedly provides a number of unique ways by which you can personalize the Feedly experience. You can directly search any specific URL or site name and can easily follow it. You can also use Feedly Mini to follow a site while you are surfing it with your browser. You can choose different views; example magazine, title, mosaic or full article for the different sections and sources you listed in the Feedly environment. You can dress the Feedly persona with a theme of your choice. You can even use the Organize Contents functionality for cleaning and restructuring your Feedly. The personalization is increased in Feedly with its feature to suggest new sites which you can follow based on your current settings. You can also get recommendations for the sites by using a #hashtag search. It can also filter out the group of essentials in which you are not interested. Another important key feature of Feedly is that it can generate a list of news digest that may be of your liking based on your feed reading habit and community as well.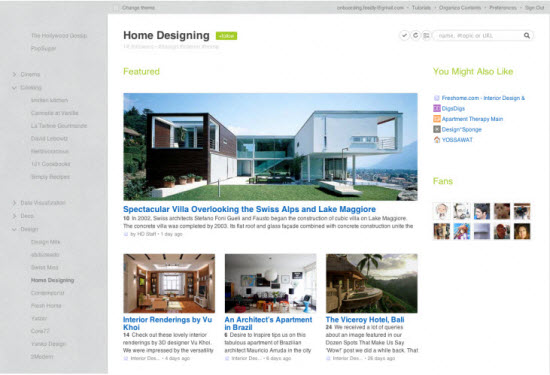 Feedly is compatible across devices and operating system platform. Feedly is available as a browser extension with Google Chrome, Firefox and Safari. It also comes as a mobile app in iOS and Android devices. Feedly is optimized for mobile phones screens and gives the user ultimate reading experience in mobile devices.
The social feed reader Feedly is fully synchronized which makes that all your feeds are updated and viewable across all devices whether computer or mobiles.
Get Feedly for Android
Get Feedly for iOS
Get Feedly for Browser