In the exponentially growing world of e –commerce where every miniscule task is performed on the internet, it has become increasingly risky and dangerous none the less. Not only because of many intruders are waiting for access of your personal data, but also due to tons of malicious software which can infect your computer and cause it to crash.
Even though there are several anti-virus and management software's available in the market, but only a few matches to that mark. PC Tools Spyware Doctor with AntiVirus is one such product which beats almost all expectations which a user desires from a good anti-virus software. Their latest edition is no less than the previous ones if not better.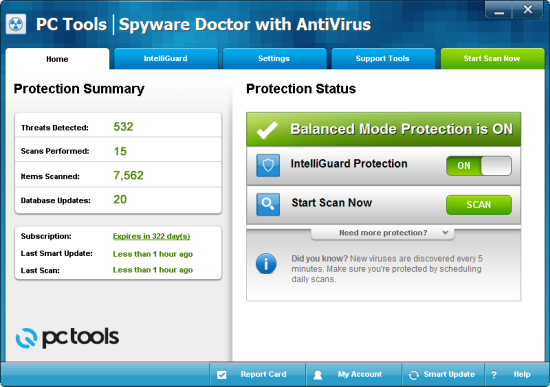 PC Tools Spyware Doctor with AntiVirus comes with an array of tools which aid in removing those malwares which get deep within your system and cause hindrances. It's a breeze to install the PC Tools on your system as even if you encounter failures, the setup provides you step by step instructions as for what to do next. The new Hidden Intrusive Threat (HIT) Scanner acts like a monster fixer which will remove almost any install problem on the system. The other tools offered by this software needed a scan by the antivirus component of the PC Tools Alternate Operating System Suite.
Now unlike many other anti-virus vendors who have switched to years based editions, the PC Tools has chosen to look the other way by sticking with the version numbers which gives them freedom to release a new version whenever it is ready. The latest version (9.0) has some notable changes over the previous ones. One such on the new user interface is the banner which spells "Balanced Mode", which when ON means that PC tools is creating a balance between performance and protection on your system. You could move the slider to increase or decrease performance protection by digging into the settings.
While testing, a full scan on malware infested system took about an hour and after reboot, spyware doctor ran again to double check for any leftover infections. The PC Tools Spyware Doctor with AntiVirus comes with a ocean of wide features in the malware removal department. The basic protection against viruses, Trojans, worms, and many other infections are taken care of and also more advanced protection is provided for malwares. The new ThreatFire feature provides fast and effective protection than the traditional methods.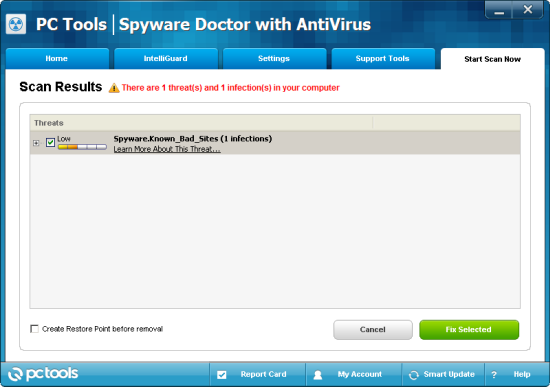 PC Tools Spyware Doctor with AntiVirus is one the few software's which provide you a 24 hour tech support and the best part is, they answer their phone calls in under 5 minutes. They also have a responsive forum where the user may interact with the employees of PC tools and other fellow users, allowing them to solve all their problems. Well, being said all the above, there is nothing more which one could ask from an anti-virus software.