Is your computer running slow? Are you facing frequent start-up problem in your PC? Is your system taking a long time to boot? Or do you want to speed up your computer?
If your answer to any of the above questions is 'yes' and you are feeling quite frustrated from the slow response of your computer, then probably its time you implement a PC management and speed-up solution for your system.
Probably you require the helping hand of Soluto, the Windows Startup Analyzer Tool that can easily boost the speed of your system to give you a faster computer with optimized performance.
It usually happens that many of the applications on our computer are not used too often or regularly. But these applications and other software do run in the background during Windows Startup. All these applications and software which run in the background use precious system resources (like memory, etc) and thus slow down our PC speed. You can speed-up your PC performance by using a software like Soluto.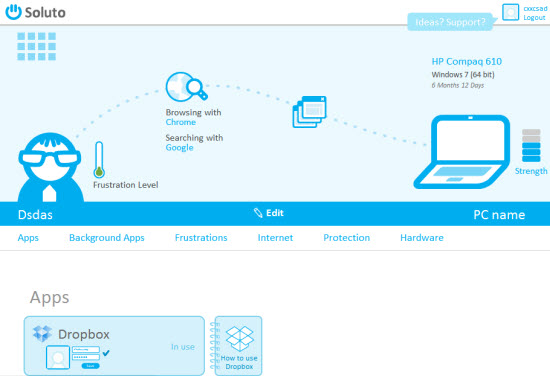 Soluto is an intelligent and efficient Windows Startup Analyzer which works effectively to give you a faster computer performance. PC management with Soluto is altogether an user-friendly affair.
Soluto analyzes and detects which software are running at boot time and helps you to find which applications are slowing it down. After understanding which applications are running in background you can pause or delay the applications which you feel are not important to run at boot time. By pausing an application you can stop the application to run during boot and can run that application manually anytime when you require it. You can run the application in background when your PC is idle.
Soluto has also introduced some new elements in PC management. Now you can manage your PC online by setting up a web account. And moreover, now it comes free for upto 5 PCs. When you use Soluto for the first time it gives a thorough overview of your PC which includes information such as apps installed, apps running in the background, hardware specifications, internet connection, etc.
You can use Soluto to solve many of your PC management related problems. You can shorten the system's boot time, check which apps are crashing or slowing the CPU, detect hardware issues, install the must-have apps, update your apps, configure your other remote PCs, use Soluto web account to help your friends with their PC management issues and also lots more of PC troubleshooting stuff as well.
With Soluto in place, you don't need to worry about which applications are important and which are not. Soluto studies your installed software and divide that software in three categories like "No-brainer" (remove from boot), "Potentially Removable" and "Cannot be removed". You can either pause, delay or retain the application in your boot-up list. Selecting pause or delay application will help you to increase the boot performance of your PC.
So you can download and install this free application to speed up and manage your PC in a much better way. Soluto gives you the power to handle the performance related problems of your PC in an easy, efficient, effective and organized way. Soluto has all the features to become your one-stop solution to optimize the working of your computer.