Now it's time to take your online instant messaging experience to a new level. With the coming of Microsoft Windows Live Messenger you can now do some real time video chatting with your friends and avoid the mess of fake people altogether. The new Messenger is free video chat enabled IM software with which you can chat with anybody, anytime and anywhere.
With Instant Messenger you can open up all the dimensions of online instant communications with your friends and loved ones; talk with them, share your pictures, do video calling, lets you have a conference with your contacts and lots more.
And what makes it greater is that you don't require building your contact list from scratch. You can import and use your friend list from services like Gmail, Facebook, LinkedIn, etc. Messenger makes your online chat time a fun time altogether. You can share photos with your friends and can even watch videos and play Messenger games together. You can log in to Messenger from the Hotmail Inbox itself and can do even multiple chatting at the same time.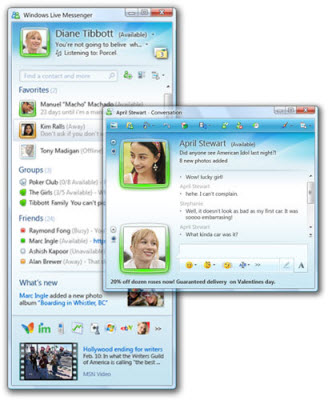 It's easy to use and customizable interface makes Messenger fabulous instant messaging software for chatting with your loved ones and friends. You can give Messenger a personal touch by adding your favorite photo, background theme, badges and can use emoticons, winks, nudges while chatting. The program has the capability to log on by itself as soon as it gets an internet connection. Messenger supports links to other popular news and entertainment sites such as CNBC, Fox Sports, Supernova, etc and has several tabs so that you can directly access websites like match.com, eBay and many others as well.
Windows Live Messenger comes with a long list of super rich features. You can do voice and video chatting along with text chatting. It allows setting up your profile, blog, have contact lists, music lists and much more on MSN Spaces. It lets you create your own chat room and invite friends from anywhere in the world. You can also make pc-to-pc call using the Verizon network which comes for a small price. As far as real time video chatting goes, Messenger offers a wonderful experience. It gives the facility of live video and the dexterity to resize the video window so that you can work on other programs as well.
Altogether Microsoft's Windows Live Messenger gives a fantastic online chatting experience to the users. With plethora of services such as voice and video chatting, customization facilities, sharing photos and videos, personalization, playing games and many others, Messenger is definitely on the path to become the favorite IM software for millions of online chat lovers around the lovers.
You can download Windows Live Messenger as online installer but if you are looking for offline installer for Windows Live Messenger then you can download it from link listed below. This direct offline installer includes all Windows Live Essential software like Windows Live Mail, Photo Gallery, movie maker etc. There is no separate offline installer for Windows Live Messenger.