Mozilla has launched the new version of its worldwide popular web browser in the form of Firefox 13. Yes, Firefox 13, the latest web browser from Mozilla is now available for download. 
Firefox 13 carries with itself several new and noteworthy features that will greatly enhance your web browsing experience. Now with Firefox 13 it will be easier and faster for you to access the web like never before. Firefox 13 has provided an entirely redesigned Home page and has greatly improved the New Tab experience.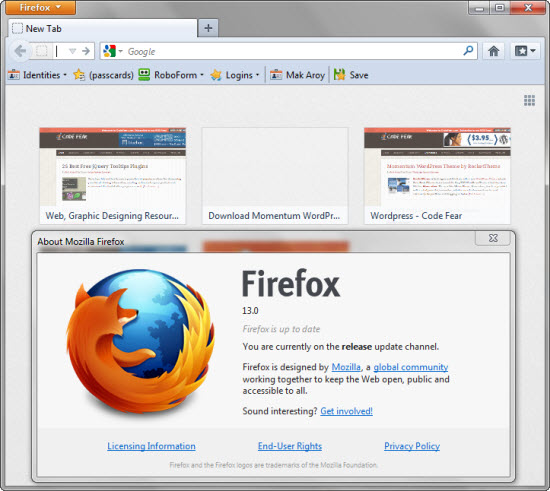 The Home Page in Firefox 13 now carries icons at the bottom of the page so that you can easily and quickly use the functionalities such as bookmarks, history, settings, downloads, add-ons, sync preferences with one-click shortcuts. Also New Tab carries some extra functionality too. When you click on the New Tab you get to see the thumbnails of the most recently or frequently surfed websites. Moreover you can even customize the New Tab according to your preferences and requirements. You can add thumbnails or you can remove them.
Firefox 13 can now load tabs when a session is restored. Firefox 13 is efficient in terms of speed and memory usage than its predecessor. It makes your browsing more secure and fast as it is using the SPDY protocol. SPDY protocol makes the loading time of a website page shorter. So a web page load time is much less in new Firefox than in other browsers.
Thus on the whole there's a lot you can look upto in this new version of Mozilla's Firefox. It supports customization capability, best extensions, HTML 5 support, newly designed Home Page, Better New Tab usage and set up, faster startups and speedy browsing experience together with being a lightweight browser as far as memory usage is concerned. So Mozilla's Firefox 13 clearly brings a new dimension to web browsing experience for the millions of users worldwide.
Download Firefox 13 from Direct Download Link