Taking Measurements might not be a day to day job, but certainly at times you do require measuring and finding out the length of an object, its height and sometimes you also want to know a particular direction or say angle, slope, area or have some other type of key measurement values. If this is the case then it would be pretty odd to carry different kinds of measuring tools with you and that too when you require to use them not very often.
But a mobile phone is such a device that you invariably carry with yourself. And now there is a mobile app which can easily solve this dilemma of yours and that too very effectively. Smart Tools – The Complete Measuring Mobile Toolkit – provides you with a virtual mobile toolbox and comes with a whole range of basic measuring tools with which you can measure length, distance, height, angle, direction, sound and even vibration levels.
Smart Tools app includes 15 different tools which are basically categorized in five different categories making it a complete package of 5 app sets. At present it is available for Android mobile devices and requires you to use Android 2.1 and up. It provides two systems of measuring units namely imperial system or metric system of units with which you can correctly take all kinds of measurements.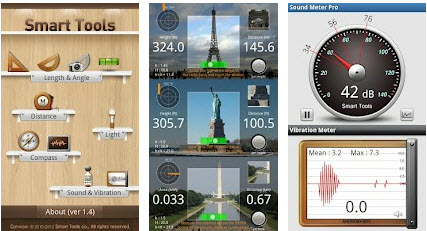 Using Smart Tools is really easy as most of its tools are extremely intuitive and easy to use. Its launch screen displays all the category of tools that are available for measuring different sets of values. You need to use the Menu icon to select the tool from the category of your choice.
For example, if you require measuring the length of your TV screen, you need to place your mobile along the object and move your finger across the screen to take its measurement, here length of your TV screen. And if the object is lengthier than your mobile screen then you have to move you're mobile to the point where you have already measured and use the arrow pointer to measure from the place from where you left.
The measurement results delivered by Smart Tools are really impressive and accurate. Its other categories (set) of tools include measuring distance, compass, sound & vibration and flashlight. So you see that Smart Tools app makes life really simple as far measurement and quantification is concerned. You get almost all the tools bundled in a single app and thus it can aptly be called as, "Smart Tools – The Complete Measuring Mobile Toolkit".