When working globally or even at different locations Desktop sharing becomes quite important and useful too. Many times you need to access your system remotely to carry the proceedings. LogMeIn provides the facility to directly access your PC while sitting far away from it. LogMeIn is a FREE software for personal use and it also comes in PRO version with different monthly plans which allows connection to more than 5 machines.
Remote sharing is basically accessing a remote computer via internet connection through a graphical Terminal emulator. Windows O.S. and others also have preinstalled Remote accessing Protocols which allow desktop sharing. With this technique you are able to see other computer's desktop on your screen and can operate that system in a way you want in short you gain full accessibility of that computer.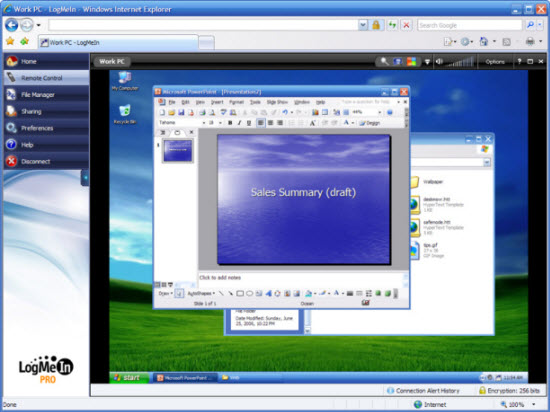 Desktop Sharing is of great use which allows you to make your work easy and fast by allowing you to be in two places at once. You can start conferences and meetings, share files and document.
The concept behind the LogMeIn software is that you must install the software in both host and client and then open an account at www.LogMeIn.com to access your LogMeIn computers and to manage your LogMeIn account. After logging in to your account you can access the other shared computer which is connected over the internet.
The main feature of LogMeIn which makes it different from other such softwares is that the application runs in your Web browser. Like if you're running Firefox, it will ask to install a plug-in and then opens it an emulator of the remote PC in a new window.
LogMeIn FREE version provides features like remote desktop viewing, copy paste text, keyboard mapping, Wake on LAN, reboot/reconnect (including safe mode), Chat, AES 256-bit encryption, SSL/TLS intrusion detection, IP address lockout, etc.
The Company also offers its PRO version with some additive features. They are:
Remote Printing: It allows you to print documents from your host computer to the computer at which you are sitting.
File Manager – Gives the ability to transfer files back and forth between the two computers.
Remote Sound – Allows sound from the host computer to be heard at the computer at which you are sitting.
Desktop Sharing – Invite a guest to work with you on your computer.
The different monthly plans which you can opt for as per your requirement are:
For 5 computers: $41.50/month
For 10 computers: $74.80/month
For 25 computers: $174.00/month