Just hang up with your friends while sitting at home. With the swift changing technologies the change in way of communication is obvious. ooVoo, a multi user video chatting software with high picture quality and sound. It is easy to use and you can enjoy with all friends simultaneously while sitting at home. The FREE version restricts you with 3 way video chats which you can be increased up to 12 after buying credits or on purchasing.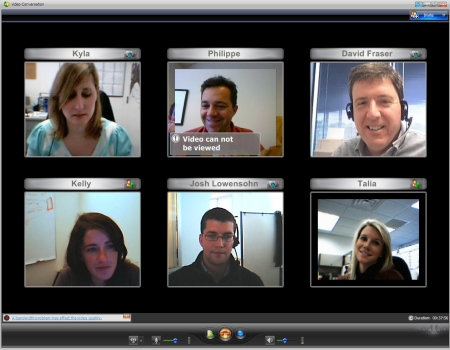 Using ooVoo is easy and fun, all you need is a computer, a broadband connection and a Web camera. Unlike Skype and other video chatting VoIP solutions you need not to install ooVoo on each device. Only one user can have it and all other members can do video chatting via web browsers. In addition, ooVoo offers video messaging to an email or another ooVoo account, text messaging, and file sharing.
The software is highly compatible and runs uninterrupted in Windows, MAC OS and also works on Android OS and iOS for iPhones and iPads. You can get maximum 12 people connected via video chat in the premium version which company offers for FREE for 30 days trial.
The features include:
3 way Video Calls and audio Calls ooVoo to ooVoo
HD Video capability of 720p video quality
Record and send video messages to friends or to email address
Text chat and text chat history (ooVoo to ooVoo)
Technical support
Embed a video chat room in a website
Send files up to 5MB
If you need its additive features for your business or any other reason you can buy their PRO pack which includes features like:
12 way Video Calls and audio Calls ooVoo to ooVoo
Recording and saving of video calls in FLV format
Record and save audio conferencing calls
Store and post recorded video calls
Desktop Sharing
Sending files, up to 25MB
Add phone participants to your video calls, or call a landline or mobile phone directly
Thus, with ooVoo you can change the way of communication and can get connected online with its high-quality video and audio and multi-user capabilities. This software can be highly productive for conferences and meetings and also for fun making.