Every operating system comes with inbuilt search applications which help you to find files save in your computer but like Windows default search it is not great application for searching.
There are lots of files stored in your PC like your text file, images, video, email etc. Searching any file with default search application is not easy, you may not find file you are searching for nor you may get categories search and you may not read text file or view image file without opening it. Default search application is just good for basic search but not for advanced search.
If you are not satisfied with default Windows XP search then you must try other search application like Windows Search. I am not talking about default Windows search which comes with Windows XP. Windows Search is an advance search program compare to default search. The latest version of this search program is Windows Search 4.0.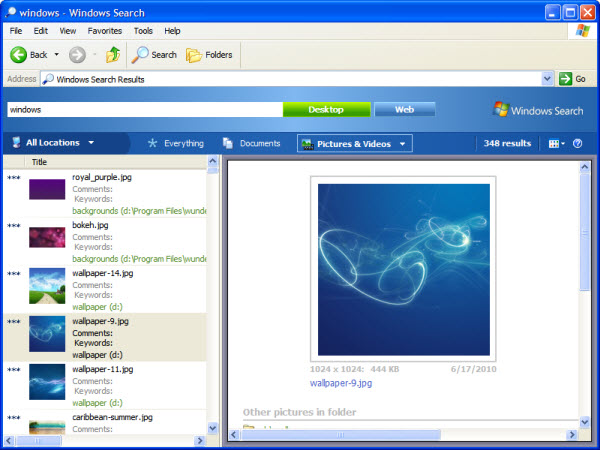 With Windows Search you can instantly find and retrieve e-mail messages and attachments, business documents, media files, and many other file types located on PCs and file shares on your network. With Windows Search 4.0, simply type a search term and results quickly appear—including information within e-mail messages and their attachments. In Windows Vista, start your search right from the Start menu and fine tune your search within Search Explorer. In Windows XP, use the always visible Deskbar for quick and easy search access to indexed content on your PC or the network. Results are displayed in a clear way that lets you quickly find the exact file or e-mail message you need, even when many results are returned.
Windows Search is free software and you can download it for free from Microsoft Website.

Download Windows Search 4.0