Autorun Eater is freeware software designed by Old McDonalds Farm. Autorun Eater helps you to scan and remove 'autorun.inf' files from your system created by malwares. Autorun.inf files are injected in our PC by downloading infected software, emails, and infected external storage devices such as flash drives.
Autorun Eater is not an anti-virus but it works side by side with your antivirus applications. When your PC is polluted with a malware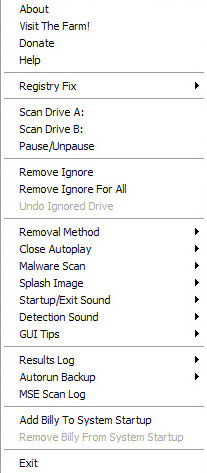 and an "autorun.inf" file is dropped, the shell menu will automatically implement the malware whenever an unaware user double clicks the infected device of his PC. Autorun.inf files basically give instructions to your PC to start all kinds of programs. Autorun Eater will warn as well as remove autorun.inf files so that malwares are not implemented whenever we access the infected device.
Many a times antivirus is used to remove the malwares from your PC but these autorun.inf files still remain and for that we use Autorun Eater. It poses no conflict to any antivirus program but it helps the antivirus and is used as an anti-malware utility. We frequently use flash drives, pen drives and many other data transferring devices of others unaware of the malwares in those devices. Autorun Eater a very easily use software that will basically remove malware created autorun.inf files from such removable drives.
Some features of this Autorun Eater are you can install and forget, it will automatically on its own monitors all the drives except A, B and CD Drives but these can be done manually. It will automatically scan the infected device with Microsoft Security Essentials. It can be paused at any time as well as deleted Autorun.inf files can be backup. It will remove some unnecessary codes which will improve the performance and the startup time of your PC. It will easily fasten Task Manger, RegEdit, and other folder options.
Autorun Eater is very useful as well as an easy to run software which do not require much skills. It will swiftly fix the changes made by these malwares that are using autorun.inf files. The pop-up windows of this software have many alerts about the file deleted and the present file. It is vastly suggested to use this software to remove malware created autorun.inf files and is very reliable software.