Amazing Alex is another game launched by Rovio after a great success of Angry Birds. Amazing Alex is physics puzzle game which takes place in a young boy house. This game is available for both Android and iOS users.
In this game we have to put balls in a basket, burst balloons or topple some books. We are given many objects to solve the puzzle and have to earn bonus by collecting stars. Amazing Alex in overall is a nice game but can't be compared with Angry Birds in terms of fun that playing Angry Birds gives us.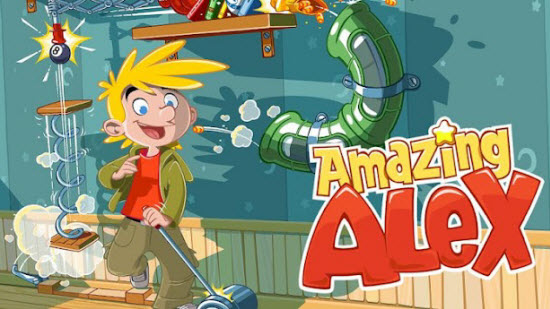 Rovio's Amazing Alex is a rebranded version of Casey's Contraptions which was released last year for iPad users. Rovio had simply managed to purchase that game and had made some simple changes and released it for Android and iPad/iPhone/iPod users. The game cost $0.99 for both Android and iOS users but there is a free trial version available for Android users only.
Some of the puzzles of the game are really challenging and inspiring when we have to work a lot with full concentration to adjust the parts to construct the tunnels. The puzzle is a bit cleverer than the game of same type because there is no one solution to the problem. You even don't need all the pieces available to you to solve the puzzle as compared to Angry Bird you don't need all the birds to kill those wicked pigs.
Amazing Alex could have been more challenging. The first few levels are sought of tutorials only which are very easy to solve. There is no time bonus for solving puzzle in one go. This is particularly true in the game that allows us to create our own levels with the same simple objects. Players will be able to circulate and share their own levels with friends, giving game a creative level lacking on many mobile based games.
When a sequel of a movie or another part of a game is launched and that too after the smashing hit of the earlier part. People have higher expectations from the company that this part will be much better than the earlier one. Amazing Alex is unable to fulfill the people's expectations after a big success of Angry Bird. This game lacks at many point as compared to Angry Bird. But overall a good time pass for a long distance journey.