The biggest fear that every computer user has with his device is the intrusion of viruses, Trojans, worms or simply any malware. A malware can be any programming code basically designed to disrupt and deny services of your system. It includes computer viruses, worms, Trojan horses, spyware, dishonest adware, scareware, and other malicious and unwanted software or program. Thus protecting your computer from these malicious programs always remains the matter of concern. Malwarebytes, a company in California provides an anti-malware software program to protect your system.
Malwarebytes Anti-Malware is a very effective freeware antimalware tool. The company also offers its PRO version for $24.95 with additive features and functionality. Malwarebytes is relatively a speedy malware remover. It quickly scans the system in just about 8 minutes albeit other high-resource programs are running.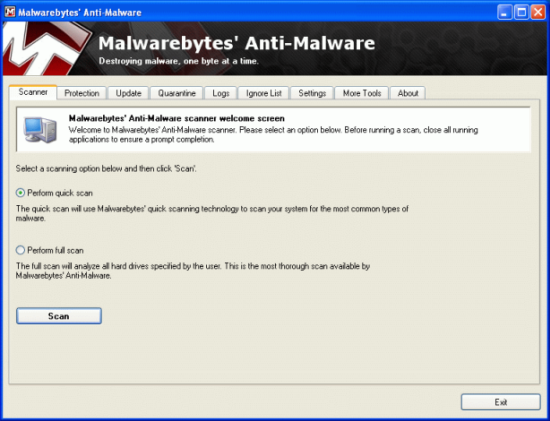 Using a powerful technology MalwareBytes detects and removes all traces of malware including worms, Trojans, rootkits, rogues, dialers, spyware and others. The user interface is simple, but has a pleasant look and is well-organized. The software supports multiple drives scanning including networked drives, context menu options including a scan-on-demand for individual files and the FileAssassin option for removing locked files and also gives multi language support. Its heuristic engine and rapid response database makes it a very intelligent anti-malware giving you protection from Malicious websites and differentiating the false positives and dangerous apps.
The PRO version includes some additive features like real time protection from known threats, Automatic Priority Updates and Scheduled Scanning and Blazing Fast Flash Scans.
Overall, MalwareBytes can be quite a protective program for your desktop and takes only 9-10 MBs of your disk storage.