If you are using Smartphone like Apple iPhone or Android devices which have camera LED flash then you can easily convert your phone flash to torch.
Many times it happens that in the night or in dark places where we need light to find switch board, find keys in your car, or something else at that time we think if we had a torch.
Though, at that time, we can use our mobile's display light, but sometimes it may not be enough to solve our problem. Yes, there is a simple solution.
You can use your mobile phone camera LED Flash as a torch. Don't worry as you don't need to click pictures to activate LED Flash.
You just need to download a free app which will activate the flashlight in one click.
Here, we present to you two simple yet powerful mobile apps that will easily convert your Smartphone Camera LED to Torch.
Tiny Flashlight + LED is free app for Android devices. It is very easy to use app in one click you can activate your flashlight and stop it in a click thanks to big button. This app not just offers flashlight activation but some more elements are there. It offers some features which can use your mobile display into signals or bulb etc.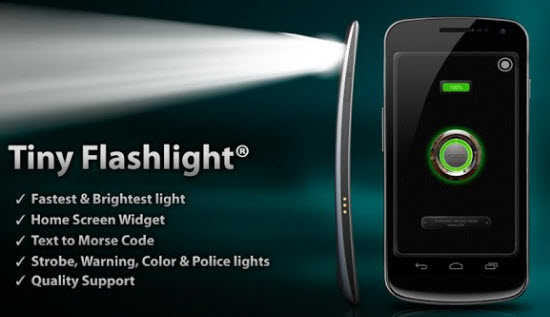 iTorch4 is also a free mobile app for Apple iOS devices like iPhone, iPad Touch, and iPad. You just need to turn on the mobile app iTorch4. This will instantly activate the flash light of iPhone4 LED. Some of the key features of iTorch4 include ease of use, SOS signal feature; you can use the LED light as a torch by the help of a big button, battery consumption optimization, etc. It is also compatible with iPhone 3G/3GS and iPod Touch. iTorch4 makes use of the front screen where the device doesn't support LED flash like in iPhone 3G/3GS.