Android Smartphones have become the order of the day. And one such area in which Android excels over other platforms is the variety of Apps that it has for offering to its millions of users worldwide. And one such important area in which we desperately require the help of Apps is that we have always wanted to Password Protect SMS, Photos & Videos on Android so that nobody can access our private data without our permission.
It is true that most of us don't want to reveal our personal and important SMS /text messages, photo collection or for that matter videos to any one accidently or deliberately. They are our personal possessions and it is upto us to whom we want to share them with. But now you don't have to worry about all this as we will showcase you two such wonderful Android Apps that will Password Protect SMS Photos & Videos.
So you have all the control and will be able to secure your personal and private sms, pictures and videos from being deleting, copying, usage or sharing. Nobody would be able to access them without your permission.
The two Android Apps which we are presenting to you are named as Handcent SMS and NQ Mobile Vault. Both of these two Apps are available absolutely free on Google Play. Here we illustrate some of their main features to you.
NQ Mobile Vault is a privacy app that creates an encrypted and password protected space on your Android phone where you can safely select and keep your private, confidential and personal sms, photos and videos too. For example it lets you send and receive sms privately from within NQ Mobile Vault. You can also have its premium version $1.99 USD per month.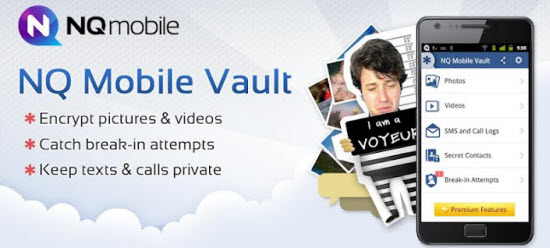 Handcent SMS is a powerful, free and customizable sms/mms tool which greatly enhances the messaging potential of Android Devices. With Handcent SMS you can easily protect your sms from being read by others. Once you install Handcent SMS on your Android mobile and do the desired settings, if you then want to open the conversation / sms you are required to enter a password. This will then password protect SMS / text message threads. So it is simple and effective.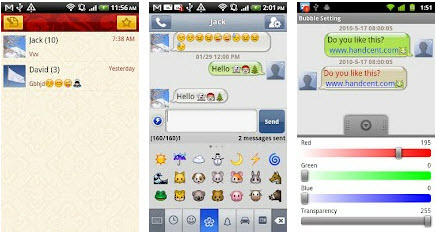 Thus we see that password protection of our personal and private sms, photos and videos is important and we do require a suitable app which can do this. Both the Android Apps that is NQ Mobile Vault and Handcent SMS (as described above) can be very useful for you and can easily and effectively protect your private data from being viewed or handled by others without your permission.