Opera 12 is finally out. Though little bit behind the schedule, this new version of the Norwegian browser finally got launched. The hallmark of the new browser, Opera 12, is its faster browsing capacity. It is now available for download for Windows, Mac and Linux Operating Systems.
Opera 12 has taken a good step forward as far as improvements are concerned. Using Opera 12 you get faster site loading, powerful extensions, numerous themes, better plug-in management, smarter security badges and much more. It is one of the most innovative browsers available in the market at present.
Opera 12 main focus has been to deliver speed to its users. It does not carry the less popular features that were found in its predecessor and has got rid of Widgets, Voice, and Unite, meaning that would now experience less bloat in this new version. Another useful addition to its powerful feature list being that Opera 12 uses the hardware acceleration technology that is the graphics processor to deliver faster and smoother animations. The Opera team has also worked on to improve the user interface part as well.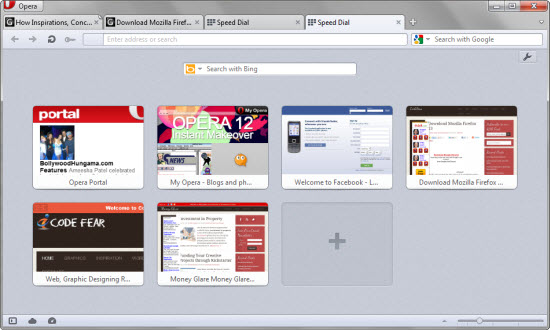 It still incorporates HTML 5 support and enables websites to access the available local hardware too. In Opera 12 you have separate processes for plug-ins like QuickTime and Flash which will make the browser stand even when the plug-in crashes. It is extremely lightweight as its entire structure is build by HTML5, JavaScript, and CSS including extensions and themes.
Opera 12 includes more than 350 Themes so that giving it your personal touch is easy and interesting too. The various Theme choices have been collected in the Theme Catalogue. Also with 64-bit support Opera 12 uses the processor power in a better way providing you with an overall better browsing experience. It has also updated its address bar to include drop-down suggestions.
On the whole Opera 12 comes with lots of new features and additions. It's on par with the best browsers available in the market. So download Opera 12 to experience a faster and more enhanced browsing experience.