Google is making things easier and easier for the common man. Google has developed number of products which serves as great utility for the common user and is continuously making enhancements to provide better resources and information.
Among the various services, Google Map is one of the most useful and widely used applications provided by Google and on Tuesday Google released the new version of Google Maps 6.0 for the Android users. The new Google map introduces indoor map support which gives the directions of inside an airport, coffee shop or shopping malls. You can now easily navigate inside the places and users can search throughout floor plans too which means a traveler can search for a coffee shop or the nearest restroom in an airport.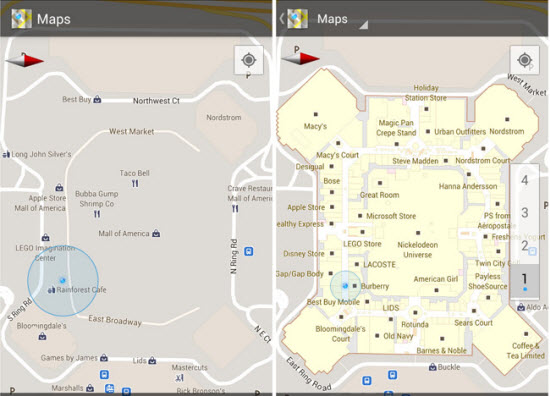 This will really help those who are alien to places or for those who have lack of time. Google informed that floor plans will appear when a user is zoomed-in fully on a building where mapping data is available and the differences between indoor and outdoor maps can be seen in the image above.
The initial release of Google Map 6.0 will support floor plans of Mall of America, IKEA, The Home Depot, select Macy's and Bloomingdale's locations, Hartsfield-Jackson Atlanta International Airport, Chicago O'Hare Airport, San Francisco International Airport, Narita International and a handful of Japanese retail outlets.
Other features which are new to Google map 6.0 include the new drop-down menu which allows quick switching between features within Maps making it easier to jump to Places, Navigation, Latitude etc. There is a new Places home screen as well, which includes popular searches based on your current location. The 3D viewing of the buildings and compass mode are also enhanced in the new version.
Thus Google will now help the Android users to reach the specific point of specific place on time without any lag of time in searching the plan layouts. You will get clearer from the video below:
http://www.youtube.com/watch?feature=player_embedded&v=P42INh3QATs