Mozilla Thunderbird the open source cross platform email client gets it new update last week. The new Thunderbird version 8.0 has been released with new Mozilla Gecko 8 engine and the feature of default disable option of third party installed add-ons.
Basically email client are used for managing email and news feeds directly on your desktop. If you are having more than one account in Gmail or in other websites then it becomes difficult to manage all of them as you have to enter the login ID and password for every account to check the mails. The process is time consuming and cumbersome too. To avoid this, there are softwares available which can show your all emails at your desktop. Thunderbird one of the best email clients [click here for best email clients] offers you the facility of easy accessibility to all your emails under one interface with great customization options.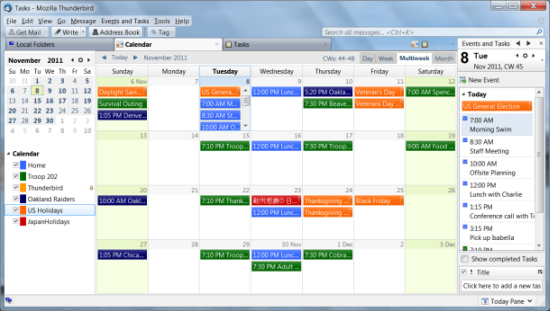 Thunderbird is available for Windows, Mac and Linux and provides you with many features like Migration Assistant, One-click Address Book, Attachment Reminder, activity Manager to record all the interactions between Thunderbird and your email provider in one place. Besides all these features the there are some new additions made on Thunderbird 8.0.
The new version Thunderbird 8.0 offers some new features:
Thunderbird is based on the new Mozilla Gecko 8 engine
Add-ons installed by third party programs are now disabled by default
New Search and Find Shortcuts
Improved accessibility of the attachment list
Folder switching pane widget has been removed, can be added back with the Folder Pane View Switcher Add-on
Numerous platform fixes to stability
Fixed several security issues