Mozilla has launched its latest browser and now you would get have Firefox 15 for PCs, Tablets and as well as Smartphones too. Mozilla Firefox 15 comes with many new features and has done many improvements over its earlier version to give you a smoother and more enhanced browsing experience.
Firefox 15 can perform silent updating, has accomplished memory fixes and have included many other new features as well. All this has equipped Mozilla Firefox 15 to give a tough time to its close competitors like Google Chrome.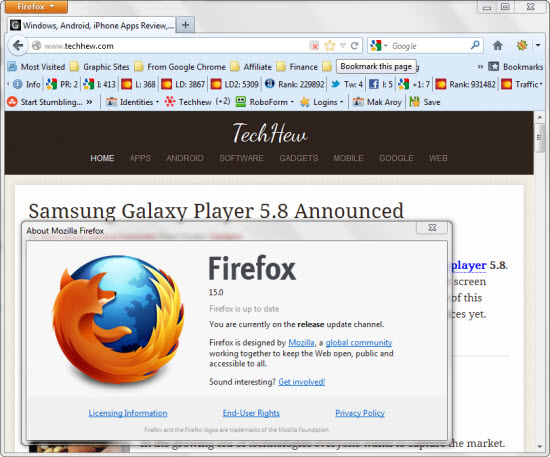 Mozilla has worked hard to empower Firefox 15. It is now equipped with silent background updating facility, useful memory footprints improvements, improved SPDY protocol, provides built-in PDF Reader and a new UI for Android Tablets as well. With the new Mozilla Firefox 15 you would now not be harressed by varied pop-ups as the browser can download and apply the updates to the background. It would automatically switch to the new version when you next open your browser. This is just the same as you would experience in Google Chrome.
In Firefox 15, Mozilla has also fixed the add-on memory leak problem. Now you would not be worried that Firefox would consume all your open memory. Earlier to get rid of this problem you had to restart Firefox all over again. But now with the coming up of Firefox 15 this problem has been fixed completely.
Firefox 15 has also been provided with a built-in PDF Reader which by default is turned off. You can enable it from about : config and by making pdf.js disabled setting to false. Firefox 15 has updated to SPDY v3 which provides it with improved security, multiplexing and multiple modes to support mobile devices. It also improves surfing capabilities of Firefox 15 comprehensively. Also you would get to see a much improved WebGL support in the Firefox 15 desktop version whereas its tablet version get to have a completely new user interface.
All in all, Mozilla Firefox 15 brings in many new and enhanced features which would surely take your browsing experience to a new height.
Download Firefox 15 from direct download link: