Getting bored or tired with your work? Relax yourself by playing this easy to use Paper Tossing game. From among thousands of games in the Android market and App store we this time introduce with the simple and easy game 'Paper Toss' which is available for both Android phone users and Apple users. The game is FREE and you can easily download it from the Android market and the App store.
Developed by Backflip Studios Ltd. Paper Toss is really a simple game much like tossing a real ball of crumpled paper into a metal trash basket. You need to throw the crumpled paper in the basket which is kept at a small distance from the point of delivering. The level of the game becomes harder with the presence of electric fan which deviates the paper from the direction of flow. You need to adjust the angle according to wind speed generated by the fan in order to throw the paper in the trash.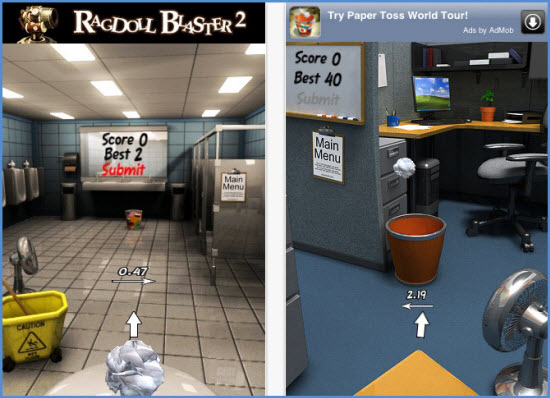 There are different levels of difficulties easy, medium and hard with the increase in distance of dustbin from the paper. There are also three locations to set for where you want to play it whether in a airport, restroom or storeroom.
The main features of the game are:
Gorgeous graphics
6 levels of varied difficulty
Innovative flick control
Hi-Res graphics for newer devices
Global online scoreboard
Animated paper
Real office sounds
Varying wind speed from fan impacts paper flight
Verbal abuse from angry co-workers
Overall, the game is just for the giving you a break from the work and will make you pleased. The graphics are of high quality and give the feel of reality. You can download it from the below links: