iTunes, a product of Apple Inc. is a complete packaged media player software which can be used for playing, downloading and organizing digital music and video files on desktop computers. Besides PC it also supports and manages contents of portable devices like iPod, iPhone, iPod Touch and iPad. iTunes can connect to iTunes store for purchasing and downloading music and videos and it can also connect to app store for downloading apps for your iPad or iPhones.
The iTunes was introduced way back in 2001 and its current version is iTunes 10.6 which is available for free and is compatible for Mac OS X v10.5 or later, as well as Windows XP or later. iTunes 10.6 works as a media player with different formats support and you can also purchase and download music, music videos, television shows, iPod games, audiobooks, podcasts, movies and movie rentals and ringtones by connecting it to the iTunes store. Moreover it allows you to download application software from the App Store for the iPhone, iPad and iPod Touch.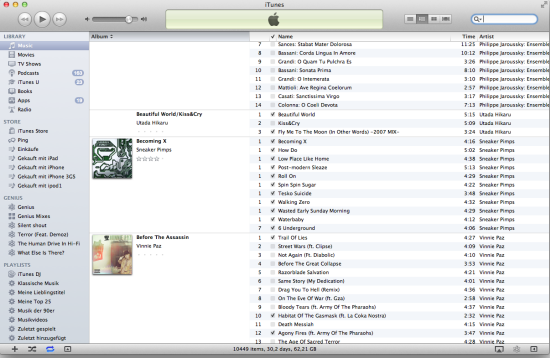 The front end of iTunes 10.6 is the Apple's QuickTime media player where you can play and organize the music into playlists within one or more libraries, edit file information, record CD, copy files to a digital audio player, purchase music and videos through its built-in music store (iTunes Store), download free podcasts, back up songs onto a CD or DVD and can run a visualizer to display graphical effects in time to the music.
With rapid developments in the past years, the latest version iTunes 10.6 includes the feature of iCloud accessibility and as part of iCloud, iTunes 10.6 pushes your data to all your other devices, wirelessly and without syncing. Thus you can access your songs on your iPhone, iPad, iPod touch, Apple TV, Mac, or PC. Thus you need to purchase it one time only to play it on every device.
With its new release of Retina Display iPad 3 Apple also announce its new software version of iTunes 10.6. iTunes is media managing software for Apple Devices like iPhone, iPad, iPod, Apple TV and MAC. It also works on PC. Or we can say that iTunes is Digital Library for Buying Music, Movies, Books, TV shows, applications and many more.
Apple upgraded its iTunes features now you can rent thousand of current or classic movies and TV episodes all in Full HD 1080p so can enjoy your favorite content in best video quality and iCloud service which offers you 5 GB of online space where you can keep your digital content and download it in any of your device with your Apple ID you can even import you CDs to iCloud so you can Access them from anywhere. Now when you buy an app, song, movie, TV show or a book from your iTunes Store it will automatically sync to all of the devices where you use your Apple ID.
What's new in iTunes 10.6:
 iTunes 10.6 is capable of playing 1080p HD movies and TV shows from the iTunes Store.
 Now with improved song matching features.
 Improved Album Art downloading, displaying and handling.
 Address the issue of song skipping while playing from iCloud.
The main reason behind the upgradation of iTunes is just to meet the resolution of iPad 3 Apple is offering 2048-by-1536 resolution in iPad 3.
You can download iTunes 10.6 from links below 
Download iTunes 10.6 for Windows XP, Vista or Windows 7 (32-bit)
Download iTunes 10.6 for Windows XP, Vista or Windows 7 (64-bit)