Another Google Chrome stable channel is available now you can download Google Chrome 17 with new features and security bug fixed. The latest Chrome version is 17.0.963.79.
The latest Google Chrome 17 comes with some improvement like New Extensions APIs, Updated Omnibox Prerendering, Download Scanning Protection and some other small changes.
In Google Chrome 17 omnibox feature is improved, as you start typing in the omnibox it shows URL autocompletes which you are more likely to visit; Chrome will prerender the page so it appears faster and allow you to land on the page instantly.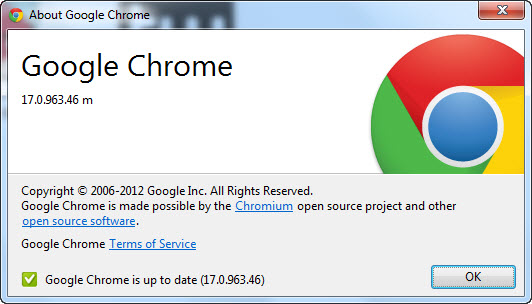 Google Chrome 17 comes with security improvements which protect you from malicious downloads. Google Chrome 17 checks a list of known bad files and checks executable files (like ".exe" and ".msi" files). If executable files do not match whitelist, Chrome will check that file with Google for more information like website you are accessing host many malicious downloads.
Apart from these improvements many bugs are fixed which are listed below.
Avoid clipboard monitoring after paste event.
Crash with excessive database usage.
Crash aborting an IndexDB transaction.
Incorrect handling of sandboxed origins inside extensions.
Use-after-free in PDF garbage collection.
Bad casts with column spans.
Buffer overflow in locale handling.
Out-of-bounds read in audio decoding.
Race condition after crash of utility process.
Out-of-bounds read in path clipping.
Out-of-bounds read in PDF fax image handling.
URL bar confusion after drag + drop.
Crash in signature check.
Use-after-free in stylesheet error handling.
Crash with unusual certificate.
Use-after-free in CSS handling.
Use-after-free in SVG layout.
Out-of-bounds read in libxslt.
Use-after-free with mousemove events.
Out-of-bounds read in shader translator.
There is another update for Google Chrome 17 and it's now updated to version 17.0.963.65 with some bug fixes. This Google Chrome 17 stable release is available for Windows, Mac, Linux and Chrome Freame.
Cursors and backgrounds sometimes do not load.
Plugins not loading on some pages.
Text paste includes trailing spaces.
Websites using touch controls break.
Excessive WebKit fuzzing.
Awesome variety of fuzz targets.
Significant pain inflicted upon SVG.
This Chrome 17 update also comes with latest Adobe Flash Player.
Another Google Chrome update now the latest stable release is 17.0.963.79 which comes with Errant plug-in load and GPU process memory corruption bug fixed.
As you know Google Chrome is available as online installer but you can download Google Chrome 17 as offline installer listed below.
Google Chrome 17.0.963.79 Offline Installer