Have you bought your first Android phone and not yet used Google Map then you are not utilizing the power of Google Map and your Android phone.
Google Map is amazing application which helps you to find places and you don't have to carry a paper maps. With Google Map you can see maps of any Country or city you can easily find places like restaurant near you or book shop. With the new Google Map release you can get voice-guided GPS navigation system.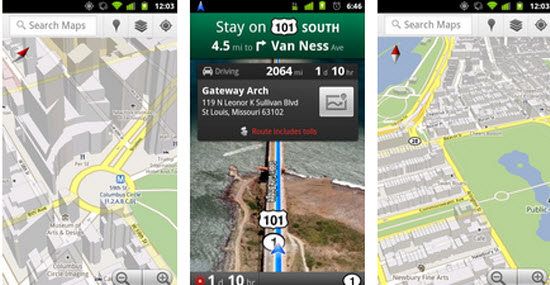 Features of Google Map
Navigation – Get free, turn-by-turn GPS navigation with voice guidance for driving or walking directions.
3D Maps – Explore the map in 3D. With two fingers, drag down to tilt and see 3D buildings where available; twist to rotate (on supported devices).
Offline Reliability – Maps for the areas you use the most are cached in the background so you can see and interact with the map, even if you lose your connection temporarily.
My Location – See your location on a map, even if you don't have GPS.
Street View – View street-level imagery of businesses and turns in directions.
Compass Mode – Enter 3D compass mode to orient yourself and automatically rotate the map and labels to whichever direction you're facing.
Latitude – See where your friends are right now. Share your location or check in at places to let friends know where you are.
http://www.youtube.com/watch?v=TAh4yiCzgKw
This is a free and must have mobile app for your Android phone. With millions of downloads this is the most popular Android App.