Launched in December, Google Currents will now be available internationally. The magazine-style feed reader from Google, Google Currents is an app for Android and iOS mobile devices for reading online content. Google Currents can be easily downloaded on your phone or tablet as it is available on the Apple App Store and on the Google Play as well.
Whatever is your area of interest, Google Currents has it all. You will surely find a suitable edition to read for the category you are looking for. Be it sports (CBS Sports, Surfer, Bleacher Report), science (Popular Science, Scientific American, Space.com), celebrities (Celebuzz, HollywoodLife, TMZ), health & wellness (Men's Health, Yoga Journal), design (Colossal,) or news (The Atlantic, PRI) Google Currents has all the stuff in various categories.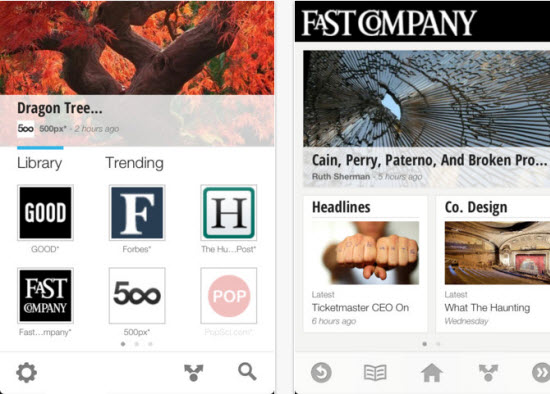 Up-till now Google Currents included US content only as it was available only for the US users. But now with Google Currents international availability things have changed for the better. Publishers from all over the world can now use the "Google Currents Producer" to create local editions for local viewers and can also choose the regions where these editions will be available. Many publications from all around the world have already started to publish editions with local content. They include LaStampa in Italy, ABC News in Australia, Financial Times Deutschland in Germany, The Guardian in the UK, Neue Zürcher Zeitung in Switzerland and Hindustan Times in India and many more.
Google Currents has integrated Google Translate which lets you enjoy the contents in your preferred languages. Now with Google Currents you can read the content in your preferred language as it is able to translate automatically into 38 different languages. So now you can stay updated with any kind of news or events internationally as you can read them in your preferred language.
Also now Google Currents (Google Currents version 1.1) comes with much improved syncing capabilities. It can sync content automatically and quickly where-ever you are so that you always have fresh content. New content is delivered dynamically each time when you open an edition. It utilizes minimum of your mobile or tablet's storage, bandwidth and battery capacity.
So with Google Currents you get a chance to easily experience and explore the best international content available on the web with the ease of mere swiping it with a finger. So it's time to utilize Google Currents as it is now available internationally.
Download Google Currents for Android
Download Google Currents for iOS (iPhone, iPad)