As always a quick stable release of Google Chrome is released now stable channel is updated to 16.0.912.75 with some bug fixes.
The latest Google Chrome 16.0.912.75 is updated for Windows, Mac, Linux and Chrome Frame. Following security fixes are updated in latest stable release:
Use-after-free in animation frames.
Heap-buffer-overflow in libxml.
Stack-buffer-overflow in glyph handling.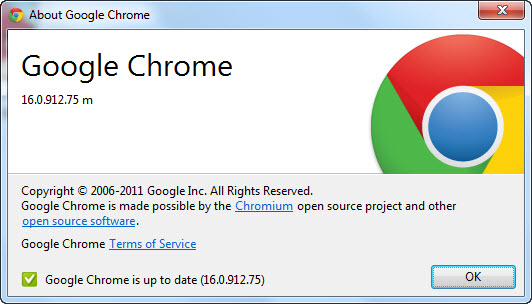 After this update many Google Chrome user are finding that Chrome is running very smooth on Mac. Fixing the bugs is good thing but a new updates in every few days may frustrate Google Chrome users.
Google Chrome is becoming very popular but too many bugs and updates can make user away from Chrome. This is what Google have to understand. Updating Google Chrome is easy and can be auto update but it takes time. If you have more than one PC then updating Chrome is not easy. You have to update it on every PC which takes more time.
Google do not provide direct offline installer from there Chrome website but still there is direct download link available which can save your time updating Chrome on your different machines. You can download offline installer of Chrome 16.0.912.75 from direct download links below:
Google Chrome 16.0.912.75 Offline Installer