Today there are millions of domain name registered and finding a good name can be very difficult because most of them are already registered. Have you think for any domain suggestions tool?
Finding domain name is so difficult that you have to have to compromise with long or uninteresting domain name because of unavailability.
Domain name is now became a business people buy a domain name and try to sell them on hire price. You can also buy already booked domain name at higher price which can be from $200 to $20000 or more.
Everyone can't afford so expensive domain name so they search for substitute domain and finding them is also very difficult. Whatever domain name you will think may be already registered it makes very frustrating.
If you are also not able to find good domain name they take some help from domain suggestions tool. There are many domain suggestions website which can help you find domain name for your desired keyword. These domain suggestions tools and services help you find related available domain name by alternative, Synonyms, prefixes, Premium domains etc.
You will find many domain options related to your keyword. You can also change parameters on these domain suggestions tools to find a good domain name.
Domain Suggestions Websites
1. DomainTools – Domain Suggestions – This is very simple service by DomainTools.com which help you find related domain name for your keyword. Just enter your desire domain name keyword and it will return you 20 domain suggestions.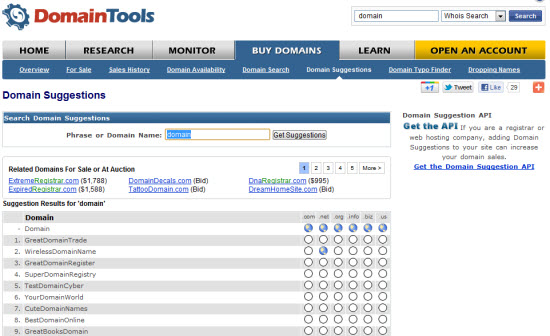 2. DomainsBot – Domainsbot is very interesting domain suggestions website which helps you find best domain name using many different parameter settings. You can choose domain extensions, Synonyms, related keyword, domain length, keywords in domain etc. These features helps a lot find a good domain name.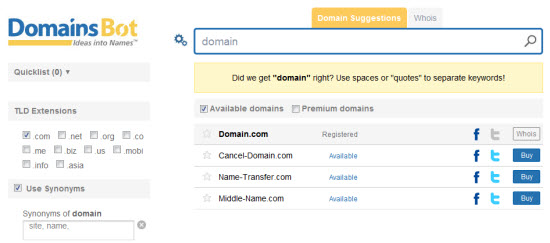 3. Namestation – To use this service first you have to register for free account and like other domain suggestions services it will also help you find domain name. The free account help you find 20 domain name suggestion for a keyword. You can subscribe for premium service on Namestation which will give you domain suggestion with more than 20 results. You can also start domain name suggestion contest and members will suggest you available domain name.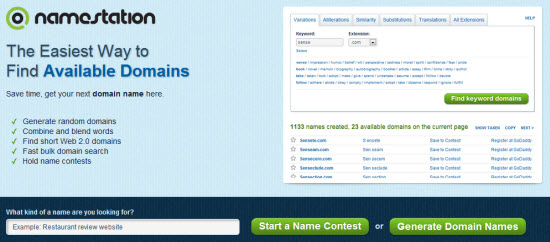 4. NameTumbler – NameTumbler is another great domain suggestions service which allows you to combine different keyword with you main keyword. You can choose combined keyword from various options available to find domain name as per your requirement.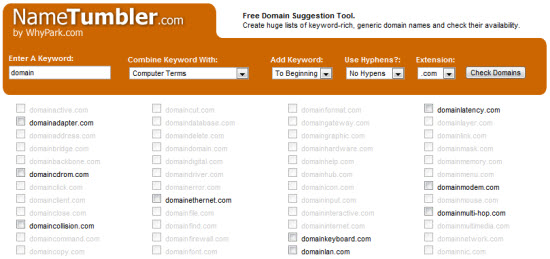 These are just few domain suggestions service there would be many services which can help you find good domain name.