Mozilla Web Browser is now out with its Operating System that is on the stage of its development. Mozilla Firefox OS (Boot to Gecko) which it has released as Firefox OS Simulator. Firefox OS Simulator has been released as a sample or prototype for helping the app developers.
The new Mozilla Operating System is built on web technologies like CSS, HTML and JavaScript. As Mozilla will be out with its mobile operating system next year so it wants to have some apps that will work on its mobile operating system at the time of its launch.
For that it has released this Firefox OS Simulator prototype which can be downloaded very easily in any Mac, Windows or Linux. Developers can easily download and test any app in this simulator. Right now it is available at 0.7 version but the developers are currently working for launching its version 1.0.
There is a great feature in the simulator that the simulator will automatically update to the latest versions as they are being launched so that the developers can work on the latest version of the simulator. This will help them to create and check the app on the version that will come out.
The Firefox OS Simulator as is more or less similar like the old version of Android. The interface is a combination of both Android and iOS.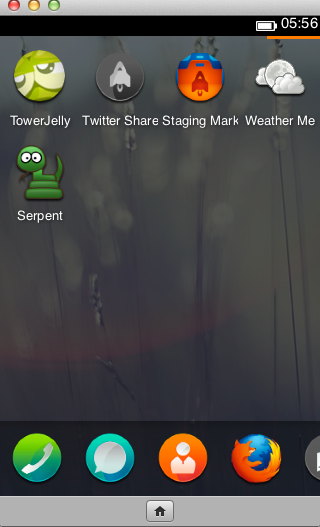 The home screen is very simple as you unlock the phone. It has a row of apps at the bottom of the home screen. The simulator is designed nicely so that the developers can use it easily, swiping right take them to the pre installed apps in the simulator and swiping left will take them to the online store of apps which is categorized also.
Firefox OS Simulator is only helping the Mozilla Firefox in creating its place in the already filled mobile market. There are already so many operating system iOS, Android, Symbian most recent Windows 8 and in which making place is really difficult.