Firefox is out with its latest version of browser Mozilla Firefox 17. The unique and exclusive change in the browser is that it will have Facebook integration directly from the browser. The users can manage, chat, and see notification of their Facebook account directly from the browser they do not have to switch between opening and closing of tabs.
The new way to be social active, "The Facebook Messenger" with Mozilla Firefox 17.All you have to have to do is to update your Mozilla Firefox version to Firefox 17 and then click the turn on button and you will have the Facebook icons on the upper left hand side corner.
Earlier this place used to have a search box for Mozilla Firefox but now the new Social API has added buttons to integrate Facebook directly.
This new Social API has made Firefox more social said the Mozilla Officials.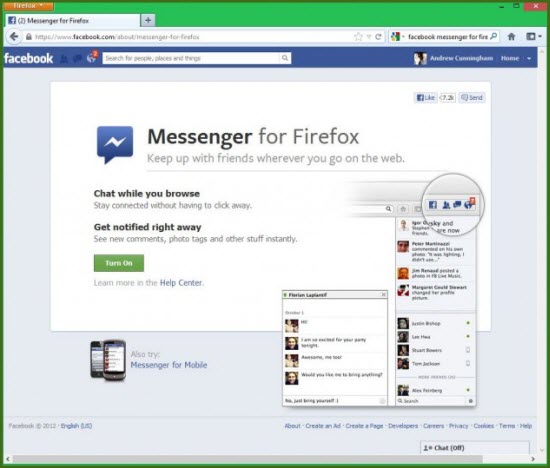 Another new feature of the Firefox 17 is that it is now not supporting OS X 10.5 (Leopard). Chrome has also dropped the use of OS x 10.5 six weeks before and now Firefox has also done the same.
There is also a Click To Play Plugin in new Mozilla Firefox 17. If your plugin is out-of-date, the new browser update will not run those plugin by default, you have manually clicked on the plugin to get it played. This feature will help you in protecting you from playing any block listed website.
It will stop you from playing the vulnerable websites but if you will click them manually if will not stop you from entering any malicious website.
The Awesome Bar has made the icons more large which display the displayed plugin information more clearly.
With this new update for the browser, Firefox also ushers Mozilla's second Extended Support Release (ESR), which will automatically be replaced the version 10 from Februarys 2013.
This update of Firefox, Mozilla Firefox 17 will make you more social active on Facebook while you doing your other work on the browser or playing games with this new Facebook Messenger Integration.
Download Firefox 17 for Windows
Download Firefox 17 for Mac
Download Firefox 17 for Linux