With over 800 million active users Facebook is number one Social Networking website. Millions of users are online every time and they love to chat with their friends keeping this in mind Facebook has officially released its desktop Facebook messenger which will help Facebook user to chat right from there Windows desktop without going to Facebook.com.
Previously Facebook messenger was just available for Mobile phone app and Facebook users were able to chat with third party messenger which supports Facebook messaging. Now you can chat with your friends from official Facebook messenger for Windows.
Few days back Facebook Messenger was leaked and now Facebook has officially released its own messenger. Facebook messenger is its starting and many changes are expected in future release.
Facebook Messenger for Windows offers live chat with your friends and you can dock the chat bar on your Windows desktop same like on Facebook.com. You can also access chat via the Windows system tray.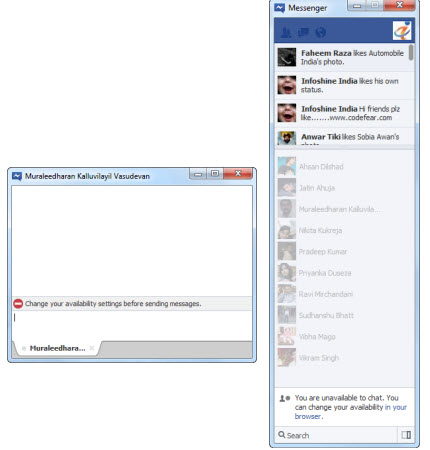 Users get chat notification when your friends want to chat with you. You can see your friend's activity and messages from Facebook messenger but when you will click it will open item on web browser.
There are many features missing in this release like you can't search for new friends, check friends profile and for many activities you have to go to Facebook.com. It is expected that many new features will be updated in next release.
Download Facebook Messenger from Direct Download Link