FileZilla is open source FTP application which will let you handle the FTP transfers easily and efficiently. Available for free, it's not devoid of even a single feature which you may require for transfer of files.
The easy-to-use interface is equipped with translations in most of the world's major languages and the icing on the cake is that you will not pay even a single buck for this heavy duty software. Moreover, it's provided with multiple secure connection options, which, as you may have already guessed, makes you tension free while moving the files around. The Tabbed user interface is meant to make your work easy.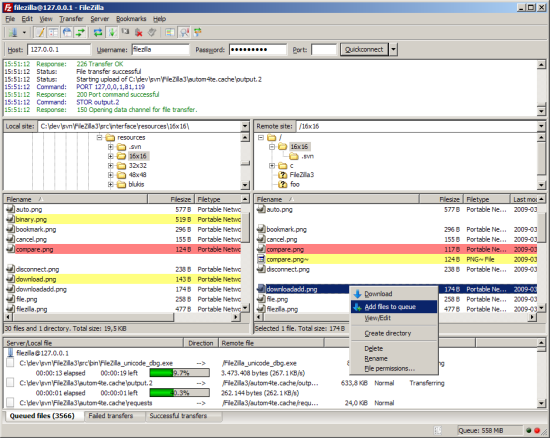 No matter which OS you have in your system-whether it's Windows, Linux, *BSD, Mac OS X or anything else, this solid FTP guy will serve you irrespective of the environment the master is using. It also provides HHTTP /1.1, SOCKS5 and FTP-Proxy support.
Not just the said features end up the story of this freeware, this software has much more for you to offer. Equipped with filename Filters, FileZilla FTP Client, as its name suggest, supports FTP, FTP over SSL/TLS (FTPS) and SSH File transfer protocol (SFTP), cross platform.
To transfer a file, what you need to do is to simply drag-n-drop operation. You may pause, resume, stop and even cancel the operation in midway. It can transfer files of over 4 GB in size and offers two bookmarking options. You are also provided with file comparison and remote file editing facilities to ease your work. You may even search a remote file.
All of your major FTP locations are bookmarked in Site Manager and the QuickConnect is there for fast switching.
This will let you work on multiple servers, and you can upload or download multiple files, all at once! Here, you have the freedom to automatically adjust transfer speeds based on time of day or date. So you should be merry even if you have a limited Bandwidth.
In addition to above, this software just needs 50MB of your memory to work.